As an Amazon Associate we earn from commission of qualifying purchases.
It is not always easy to pick the best sprinkler heads with such a wide range of options on the market. Not all of them are equally good and suitable for your garden. If you are tired of watering flowers manually every day, the sprinkler is the best solution. This is why you should read these sprinkler head reviews and decide on the product you need the most.
Here you will find only prime solutions for the garden, checked by many experienced gardeners. The sprinkler heads are a crucial component of any watering system, so choose them wisely.
Pros
Made of high-quality materials
Includes an adjusting tool
Runner-Up
Pros
Made of high-quality materials
Premium Choice
Pros
Includes an adjusting tool
Affiliate links and images placed from the Amazon Product Advertising API on 2023-12-07
Top 7 Best Sprinkler Heads Reviewed
If you want to know what is the best sprinkler head, you need to check out the list of my favorites here. They are all considered to be the leading products on the market. I have specifically picked different types of sprinkler heads for different demands.
1. Rain Bird 5000 (4-Pack) – Best Compact Rotating Sprinkler
Affiliate links and images placed from the Amazon Product Advertising API on 2023-12-07
The compact lightweight construction is almost unnoticeable in your garden. You can order 4-pack sprinkler heads at once. The heads are small and black, and they don't ruin the total look of the garden. The item weighs 2.3 pounds. Besides, each of the heads is hardened with the triple blade wiper seal to avoid possible leaks.
You can use it in your garden no matter the area. However, if you want to water big areas or pick this model for commercial use, you might need to buy several packs. Rain Bird is a leading manufacturer of sprinkler systems around the world, which was founded in 1933. Their products are offered in more than 130 countries.
The heads can rotate from 40 degrees and up to 360 degrees. They are not only protected from leaks but from any weather conditions and versatile types of ground. Heavy-duty cover guarantees the durability of this product. Unlike in similar models, you will not see ugly brown spots from water leakage around the heads. The pop-up effect requires the water pressure. It produces large droplets of water that can resist strong wind.
Although I use these heads for the yard in front of our house, I believe it will work great for big lawns. It spreads the water evenly, so the grass always stays green.
ADVANTAGES
Durable construction;
Leak-resistant;
Weightless and compact;
Rotates up to 360 degrees;
Affordable price.
DRAWBACKS
Only 4 heads in the pack.
2. Hunter PGP-adj – Lawn Sprinkler Heads with Nozzle for Trees
Affiliate links and images placed from the Amazon Product Advertising API on 2023-12-07
The pack already contains everything you might need for an efficient watering system. You receive 6 sprinkler heads, a nozzle for trees, and even an adjustment tool. The device is made of high-quality plastic. The design is minimalistic, in black color. You will unlikely notice these heads from a distance. With the adjustment tool, you can control the power of the water supply. The sprinkler head weighs 3.65 pounds.
Hunter is an American-based manufacturer of sprinkler systems. It is based in San Marcos, CA. The company has over 250 patents and 40 trademarks, which are on-demand around the world. It has representatives in 125 countries. They offer numerous types of sprinklers and versatile parts of the system, so you can order everything you need from this developer.
I started to use them only several years ago, but one of my friends has been using a similar model from the same developer for over a decade and it still works splendidly. Moreover, I have bought several packs for our garden. I don't recommend you to constantly change the power of the water flow, but you can do it if you need.
ADVANTAGES
The pack includes an adjustment tool and a nozzle for trees;
Made of high-quality materials;
There are 6 heads in the pack;
Durable;
Well-known, trustable developers.
DRAWBACKS
Does not have a pop-up system.
3. Orbit Voyager II – Premium Pop-Up Sprinkler Heads
Affiliate links and images placed from the Amazon Product Advertising API on 2023-12-07
This system is great both for big territories and commercial use. The pack includes 10 heads that are made of high-quality plastic, protected from leaks. The head rotates up to 360 degrees, and you can control the water flow with the adjustment tool that comes in the pack. 8 nozzles cover a distance from 35 ft to 45 ft, depending on the water pressure.
There are specific gear mechanisms inside the sprinkler heads that make the whole process quiet and smooth, so your neighbors aren't likely to complain about the irritating noise.
Orbit is a leading manufacturer of watering systems in the USA. They prefer to create smart systems suitable for any household. This model is one of their bestsellers. These are pop-up sprinkler heads with an adjustable degree of rotation. You can set it from 40 to 360 degrees, and if you don't need the whole coverage, try 40 degrees.
The filter inside is removable and you can regularly clean it from dirt. One of my friends has the same system at home, and he cleans the filter twice a year. The pop-up height of the device is 4 inches.
ADVANTAGES
One pack is enough for the entire garden, even a large one;
Adjustable angle;
Adjustable coverage area;
Includes an adjusting tool;
Affordable.
DRAWBACKS
These heads must be attached to the plastic pipes already installed into the underground system of sprinklers.
4. Rain Bird 5000 (10-Pack) – 360-Degree Adjustable Sprinkler
Affiliate links and images placed from the Amazon Product Advertising API on 2023-12-07
This product has multiple features that guarantee you an evergreen lawn. All you need is to provide the water supply, and this system will take care of the rest. You can adjust the degrees from 40 to 360 to your needs. The pop-up heads raise 4 inches above the ground. They cover a distance from 25 to 50 ft based on the water flow. These items come in different colors and numbers of heads in the pack.
I recommend going with the pack of 10 black-colored heads. They are unnoticeable in the yard and won't ruin your landscape design. The pack includes nozzles and an adjustment key for the heads.
I have already described the Rain Bird manufacturer in the review of the first product. It is an American-based company with millions of customers in the country and abroad. This particular pack also includes 8 standard angle nozzles and 8 low-angle nozzles. Though you might not need the pack for the small territory, this is one of the most obvious solutions for big areas. Each sprinkler can water the territory of 50 ft around.
Another benefit of the system is that it is simple to install. Even a beginning gardener can handle the system. Use the screwdriver as the adjustment tool for the heads.
ADVANTAGES
40-360 degrees of rotation;
10 heads in a pack;
Simple to install;
Reaches 50 ft;
Solid construction.
DRAWBACKS
Not suitable for small territories.
5. Melnor Adjustable Kit – Top Sprinkler Heads with Hose
Affiliate links and images placed from the Amazon Product Advertising API on 2023-12-07
This is a watering set with both sprinkler heads and a hose. The system is adjustable and simple to use. There are three sprinklers in the set. They cover 1800 sq ft territory, granting smooth and gentle watering of the lawn and flower beds. The pack also includes two durable hoses of 15 inches.
Basically, you need to attach the sprinkler heads to the hoses via a specific unit-to-unit connection, compatible with the hose, and place the sprinkler into the ground where you need it.
Melnor has a 70-year history of success on the market of gardening tools and sprinkler systems. It is based in Shenandoah Valley, Virginia. The manufacturer gives 2 years of warranty for the product. It also has flow control near the unit-to-unit connection, an adjustable angle, distance, and direction at the top.
You can adjust the angle from 0 to 360 degrees. If you don't need to water the entire territory of your yard or garden, you can change the distance, flow, and angle. You might also choose whether you need sprinkler risers since you can use the tool without them.
ADVANTAGES
The hose fits perfectly;
Comes with all the tools you might need;
Rotates up to 360 degrees;
Covers 1800 sq ft;
Competitive price.
DRAWBACKS
Too much pressure can pop off the top of the head.
6. Melnor Turbo – Rotor Sprinkler Heads with Quick Connection
Affiliate links and images placed from the Amazon Product Advertising API on 2023-12-07
Each of these sprinklers has a 70-inch diameter of watering. They are not widely used for big territories but are perfect for medium gardens and fields, small yards, and flowerbeds. I recommend this system to anyone who does not want to call a specialist to install the system. The process of installation is simple and easy. The pack has a Quick Connect Product Adapter that connects the sprinkler to the hose.
This item is made by Melnor, one of the most trustable manufacturers on the American gardening market. They provide prime-quality sprinklers not only for the US but also worldwide. This sprinkler has a lifetime warranty as well. There are 6 different patterns of spray that change the water flow. You can use the fan or the full power depending on your current needs.
There is a reliable turbo motor installed, which grants the long life of the sprinkler system. The turbo motor also provides the quiet work of the entire system. As for the spraying angle, you can arrange it by yourself from 25 degrees to 360 degrees.
ADVANTAGES
6 spray patterns;
Up to 360 degrees of rotation;
The turbo motor inside;
Quiet work;
Simple to connect.
DRAWBACKS
The price is slightly higher compared to other products on the list.
7. Gilmour Metal Sprinkler Head – Heavy-Duty Sprinkler for 5800 sq ft
Affiliate links and images placed from the Amazon Product Advertising API on 2023-12-07
The sprinkler covers 5800 sq ft territory and is perfect for big territories. It provides a 43 inches radius of effective watering. You can arrange the angle of coverage by yourself from 40 degrees or 360 degrees. There is also a diffuser screw to change the water stream with ease.
The head is covered with zinc and long-lasting brass. It makes the tool more reliable and everlasting.
Gilmour is an American manufacturer, famous for its high-quality gardening tools. You can use this head for the sprinkler base of ½ standard connections. There are 2 items in the pack. Also, there is no headache with the hose attachment in this system, which I like the most. It already comes in the standard size with matching connections.
ADVANTAGES
Adjustable angle;
Durable material;
5800 sq ft of water coverage;
Simple to attach;
Affordable price.
DRAWBACKS
Only 2 heads in the pack.
Sprinkler Heads Buyer's Guide
After you have checked my list of the best rotary sprinkler heads, you might feel lost in numerous options. Since you probably have several separate areas you need to water daily outside the house, it's better to buy not one but a few of these sprinkler heads. This guide might help you with choosing the most suitable variants for you.
What to consider when choosing the best sprinkler heads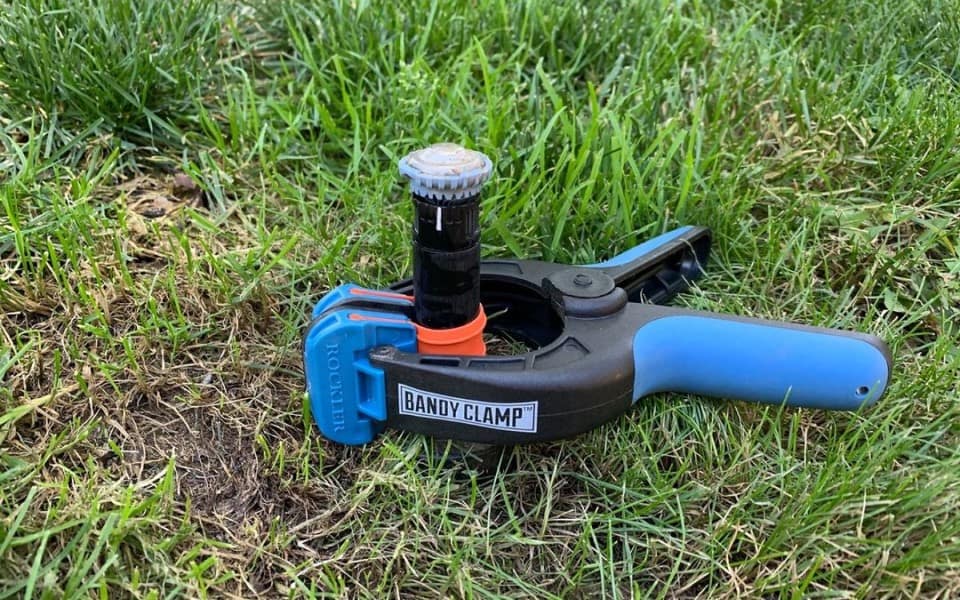 You might have heard numerous recommendations on the installation of the best underground sprinkler heads. However, there are too many things to consider before you even buy the system itself. If you don't want to leave some of the sprinkler heads unused, pay attention to the following features.
Types
There are several types of the best inground sprinkler heads. They come in different designs. Choose wisely, considering the area you want to water and the plants that are growing there. The two main types are:
Pop-up models contain the watering wand that appears from the housing of the sprinkler. The length of the watering wand is different, and you need to decide on which one you need. The standard option is 4 inches in height. However, there are 2-inch wands for grass lawns. The 4-inch wands are better for flower beds;
Fixed models are great for shrubs and small flower beds. They don't pop up and stay in the position you pick. The typical connection is ½ inches range, and they can fit the classic steel water pipe.
Material
Almost all the heads are made with plastic or covered in it. Make sure that there are no rust or water stains after a long period of use. High-quality plastic is a perfect choice. If there are leak-free seals, you will forget about any worries of leakage.
Lawn size
I have gathered various types of sprinkler heads on the list with different coverage areas. You have to search for wider area coverage for big territories. The classic model covers 50 ft area.
Water pressure
I recommend using only adjustable models. Check whether the sprinkler head has the adjusting tool before you buy it. You need to control the pressure of water yourself.
Features
Sprinkler heads significantly save your time. They have numerous features you might appreciate:
Time-saving;
Money-saving since you don't have to plant new grass or flowers, thus saving money on wasting water;
Spray sprinkler bodies reduce water consumption. They are eco-friendly since they reduce the amount of water;
Automated actions;
Benefits for the greenery.
Installation
Every sprinkler head on the list comes with instructions that are simple to follow. You will quickly learn how to adjust the sprinkler head to the system. All you need to do in advance is to check whether you have compatible connectors.
FAQ on Sprinkler Heads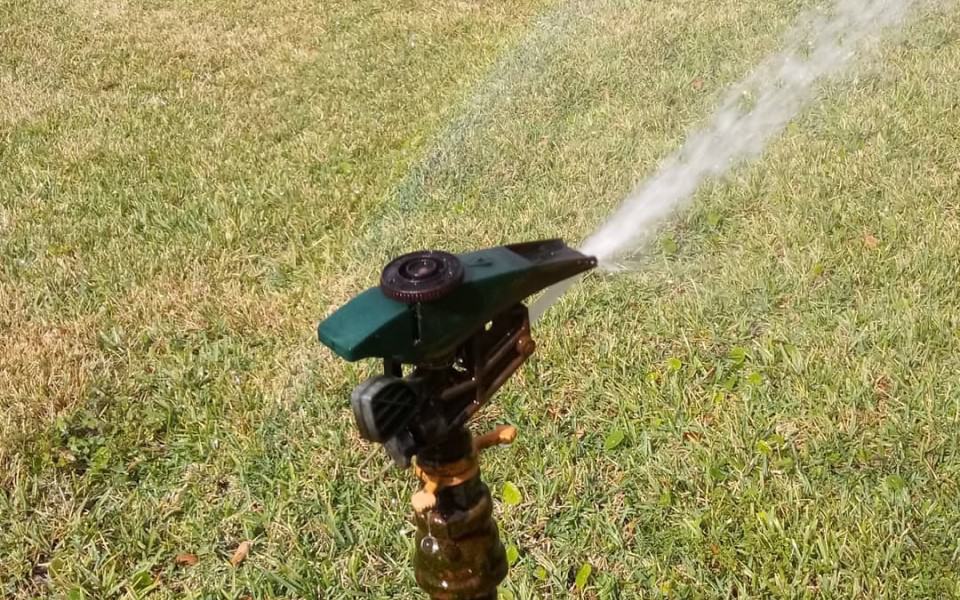 Here are the most popular questions around the Web. I have decided to answer them in brief. Perhaps, they will be helpful for you as well.
What is the best brand of sprinkler heads?
It depends on your preferences; I have named all my favorites like Rain Bird, Hunter, Melnor, and Gilmour. They are all native, and I completely trust them. I have been using their products for many years.
What is the most efficient sprinkler head?
It depends on the garden or lawn you have. In my case, it turned out to be Rain Bird 5000 Series, which I have described above as the top pick product. I like the power of this instrument, and it suits our garden perfectly. You might want a tool with more features or a cheaper one. Make sure that your perfect tool covers the area you need, has adjustable power of water supply, and is durable.
How do I choose a sprinkler head?
I have already described the features you have to pay attention to above. Before you buy anything, find out how much water your plants need, how high the head must be, and whether it rotates or not. After that, you might pick the developer you trust and check the price you are willing to pay.
Are rotary sprinklers better?
In some cases, they are better. Rotary sprinklers grant you the freedom from the daily watering procedures. They can cover bigger areas. However, if you have the limited space that must be watered and there are a lot of electric tools nearby, it is better to avoid rotating sprinklers.
Perfect Sprinkler Heads for Your Lawn
As there is no perfect solution that works for everyone, you should choose the best option based on the size of your lawn, the type of plants you grow there, the area that must be watered, and even the level of watering. Pay attention to universal heads like Rain Bird 5000, Orbit Voyager II Gear, and Hunter.
If you have one of the sprinkler heads on the list, share your opinion about it in the comments below. How do you like it? How often do you use it?