As an Amazon Associate we earn from commission of qualifying purchases.
For those who have limited garden space or little trust in their garden soil, growbags make a great alternative to conventional growing. They enable you to grow vegetables on your deck or balcony if you like to and choose whatever medium you find fit while also ensuring proper airflow to keep the plants happy. Finally, growbags are cheaper than most alternatives. I've been using this method for years now and have no regrets!
The question here is, what growing bags for tomatoes are really good? Read the reviews below to find out about the best growbags for tomatoes.
Top Pick
Runner-Up
On a Budget
Great temperature control
Top Pick
Great temperature control
Runner-Up
On a Budget
Affiliate links and images placed from the Amazon Product Advertising API on 2023-12-07
7 Best Growbags for Tomatoes
I've included my absolute favorite plus seven excellent alternatives for you to choose from. Feel free to pick whatever you find might fit your situation and purpose best.
1. Smart Pots 20-Gallon Grow Bags: Smart Bags for Growing Your Tomatoes
Affiliate links and images placed from the Amazon Product Advertising API on 2023-12-07
This is a high-end model developed by a specialized brand to meet the needs of commercial growers, which means increased durability and well-thought-out design.
Unlike the above bags, these are 20 gallons large, which means they can be used to host several tomato plants. A 15-gallon option is also available.
Apart from ensuring air pruning of the roots for ultimate tomato root health. It also encourages beneficial bacteria to propagate and keeps temperature inside the pot in check on a hot day. The material used is UV resistant and environmentally friendly in that it contains no BPA or lead.
I've bought one myself, mostly because I love the tan color, and I find the model to be highly durable and built to last. I wish the handles were a bit wider, but it's very unlikely that you'll carry a 20-gallon bag when it's full.
Positives
Great temperature control
Helps plants develop a healthy root system
Human and plant safe material
Ensures air pruning
Two color options to choose from
Negatives
The handles should be a bit wider
Pricey
2. VIVOSUN 5 Gallon Grow Bags: Heavy Duty and Thickened
Affiliate links and images placed from the Amazon Product Advertising API on 2023-12-07
Made by a California-based gardening brand that attaches special importance to delivering reliability at a fair price, this model performs well under most conditions and is extremely versatile.
Apart from the 5-gallon option, these VIVOSUN grow bags come in a variety of sizes from 1 to 30 gallons. However, I find the one under review to be just enough for tomatoes.
These vegetable bags are made of sturdy non-woven fabric with a density of 300 g. This means that, while being permeable to a moderate extent, they don't retain too much water, preventing rot development. The material contains no bisphenol-A, which is a common concern with containers.
The pots come with rugged handles fixed with serger stitches. I use these for my tomatoes a lot, and I often carry them by the handles with the plant and soil inside.
The manufacturer offers a one-year warranty. Although there's only one color option available, the unfussy design is pretty versatile. Five pieces are included in the pack.
Positives
Fair price
Sturdy material
No excess water retention
Rugged handles
Nice design

1-year warranty
Negatives
I wish there were more color options
3. WINNER OUTFITTERS 5 Gallon Grow Bags: Best Tomato Planting Bags on a Budget
Affiliate links and images placed from the Amazon Product Advertising API on 2023-12-07
Unlike Vivosun above, Winner Outfitters is a more versatile brand offering a wide range of outdoor products at affordable prices. The pack under review consists of six 5-gallon pots. Other size options available include 3, 7, and 10 gallons.
These bags are made of non-woven fabric, meaning reduced water retention (but not complete impermeability). They are designed to prevent root circling and encourage the plant to stop growing roots as soon as it senses air near — this is called air pruning. The material also keeps the tomatoes warm in winter and relatively cool in summer.
The pots come with well-made handles. These are a little less comfortable to hold when carrying a full bag as compared to the above model, though (I judge by my experience with them as I've tried them as a replacement for my usual choice).
Positives
Very affordable
Made to last
Adequate permeability
Unwoven material prevents excess water retention
Provides for air pruning
Negatives
Only one color available
The handles might feel a little scratchy
4. Ming Wei 15 Gallon Grow Bags: Another Budget-Friendly Way of Growing Tomatoes in Fabric Pots
Affiliate links and images placed from the Amazon Product Advertising API on 2023-12-07
These China-made pots come in various sizes, including 5 gallons. However, I only have experience with the 15-gallon version, and I find it to be quite fit for growing tomatoes. The product is a good option for those shopping on a budget, and there are multiple pack options available.
Cheap as they are, these are regular grow bags that deliver what they should with tomatoes. They do ensure improved aeration as compared to most plastic containers and are better for the roots. The fabric is relatively sturdy, and the handles well-made. However, its texture is very different from what the above models feel like. The pots are made of a felt-like material that might mold overtime. Mine didn't, though, and I'm inclined to attribute this fact to proper airflow. This is surely not the best model for growing mold-friendly conditions.
And oh, look at that army green!
Positives
Budget-friendly
Good aeration
Nice color options
Relatively sturdy
5. ANPHSIN 4-Pack Black 10 Gallon Garden Grow Bags: Quality Waterproof Tomato Planter Bag
Affiliate links and images placed from the Amazon Product Advertising API on 2023-12-07
This product is very different from the above models in that it's not permeable to water. It's made of waterproof non-woven fabric with holes to prevent excess water accumulation.
It's also quite unique because it has an access window in the bottom part, so you can check the state of the root system (although I suppose it's meant for potatoes, which can also be harvested through it). There's a handle attached horizontally to the bag for single-handed operation, which is not the most convenient approach with a 10-gallon bag. I have tried it and find it more or less useless when the bag is full.
The Anphsin bags come at a fair price and ensure health growth in tomatoes with no signs of mold. One thing I'm not quite happy with is the design, since the fabric has a plastic luster to it, and it's generally very basic.
Positives
Inexpensive
No mold
Aerates well
Comes with an access window for growth control
Negatives
Not the prettiest design I've seen
Poor handle design
6. VIVOSUN 5 Gallon Grow Bags: The Best Deal for Growing Tomatoes in Grow Bags on a Large Scale
Affiliate links and images placed from the Amazon Product Advertising API on 2023-12-07
This pack by Vivosun, already mentioned, consists of as many as 50 pots. This might be the perfect money-saving option for someone who's positive about growing tomatoes in smart pots.
The reflective material used in these bags takes good care of the roots by keeping them cool when the weather is hot and vice versa. It's also durable and minimalistic-looking, which I appreciate a lot. My friend uses quite a number of these in her patio; she likes them because they keep the tomatoes healthy and don't ruin the view.
Multiple holes are provided for drainage. The pots are reusable and versatile (you can use them for a variety of plants). Their only disadvantage in my opinion is that they lack handles.
Positives
A good deal
Minimalist design

Effective drainage

UV-reflective material keeps the plant cool
7. Smart Pots 12050: Best Growbags for Tomatoes in Raised Bed Gardens
Affiliate links and images placed from the Amazon Product Advertising API on 2023-12-07
Unlike the other products, this one is a bag that unfolds into a full-blown garden bed rather than remains an actual bag. It's easy to use and has all the benefits of smart pots, including air pruning, beneficial bacteria growth stimulation, and temperature control.
The UV-resistant material is durable under all weather conditions and environmentally safe. The Junior size option, which is ideal for tomatoes, comes in two colors, purple and black. Some people like the design, like another friend of mine, but others might find it a bit too flabby. According to the friend using this model, her tomatoes feel good in it.
Positives
Fair price
Easy to set up
Reflects UV light
Ensures proper aeration
Provides for air pruning
Choosing Top-Notch Growbags: Buyer's Guide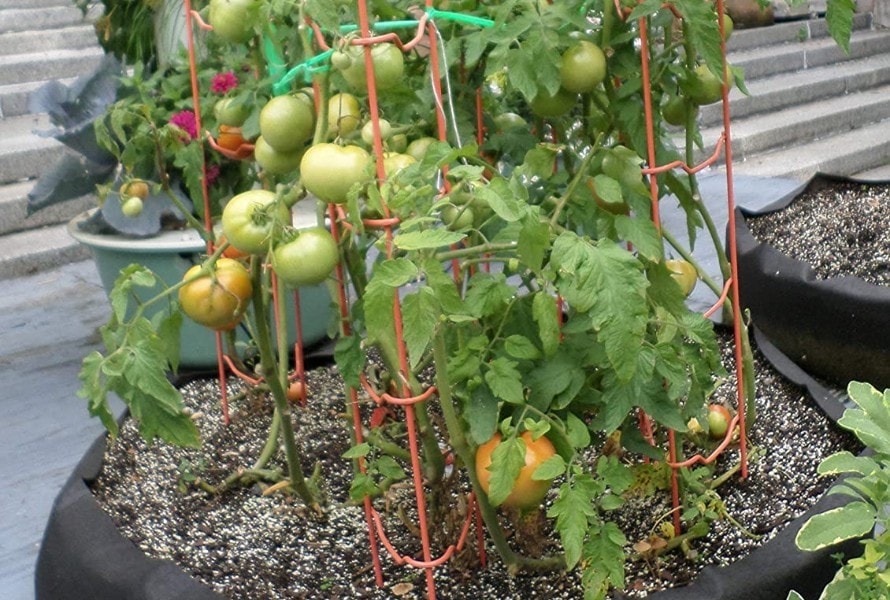 Here is a short guide for people who want to start growing their tomatoes in bags but don't know where to begin.
What Are Tomato Growbags?
Vegetable grow bags, also spelled growbags, are a kind of pots made of fabric rather than plastic or other solid materials that's used to plant different types of vegetation, from potatoes to radishes and more. Tomatoes are another bag-friendly plant species. Usually, however, grow bags aren't advertised as designed specifically for tomatoes.
Fabric pots are easy to use. All you need to do is put some soil inside and use it like a regular garden bed. Drainage is usually included as part of the design.
What Are the Benefits of Using Growbags for Tomatoes?
With fabric pots that are highly portable, you don't need to rely on your garden soil if you don't trust it. Instead, you can use the best soil for tomatoes that you can find and place the bag anywhere around your property like in your patio or on the deck. With such flexibility, the plants have better chances of getting as much sun as they need.
Soft pots ensure better aeration than most hard-walled containers and provide for air pruning of plant roots, preventing excessive growth and promoting a healthy root system. Effective drainage systems prevent molding, and the materials used in quality growbags keep the tomatoes cool on a hot day and warm in winter.
What to Look for When Choosing Growbags for Tomatoes?
Material is key to how well the soft pot will work. Most quality models on the market today are made of non-woven fabric, which is either moderately permeable to water or water-proof. The former option usually renders drainage holes unnecessary. At the same time, water-proof growbags come with a system of those to keep excess water from accumulating inside since this will likely cause molding. Another important aspect is the material's ability to keep the temperature in check by reflecting part of the UV radiation that hits the pot.
Size is also a parameter to consider when shopping for growbags. The short answer to the question, "What size grow bag for tomatoes do I use?" is 10 gallons and up ideally. The thing is, an average tomato plant needs around 9 to 10 gallons of soil to prosper and even more space to grow properly. However, you can start at about 5 gallons with smaller varieties.
Finally, make sure the design is practical and the material rugged enough. Nice sturdy handles will be a plus.
FAQ On Growbags For Tomatoes
Below, I answer some of the most common questions regarding tomato grow bags in a very brief manner.
Are grow bags good for tomatoes?
Yes, they are. Fabric pots ensure improved aeration while also providing for air pruning of roots and enabling effective drainage. They keep the plants cool on hotter days, too, which makes them a better option than most hard-walled containers.
See the above section for more information on this.
When should you top your tomato plants?
Whether you are using growbags or another planting method, the general recommendation is to top your tomato whenever it's threatening to grow too tall. Excessive growth weakens the stem, so it's essential that you cut off the top when it's about to grow over the support.
How many tomato plants can you put in a grow bag?
The rule of thumb here is to divide neighboring plants by at least 18 inches. That is, with most fabric pots, you'll only be able to plant one to two tomatoes. If the plants are limited in room, they might fail to develop properly.
How do you support tomato plants in grow bags?
The easiest solution would be to buy a ready-made trellis. Most will fit even in a relatively small grow bag. You can also make one out of wood or use a string to support your tomatoes. The latter methods need two stakes to suspend the string between. Please mind that there are bush varieties that don't need any support.
Takeaways
Grow bags are a simple yet cost-efficient way of growing tomatoes in your garden, patio, or on the balcony. When shopping for fitting containers, it's essential that you choose the right size depending on how many tomatoes you are going to plant in the same bag, material properties, and drainage arrangements. A UV-resistant fabric planter that won't retain excess water has every chance of keeping your tomato plants happy and healthy.
As always, you are welcome to share your experience in the Comments sections. Have you already tried growing tomatoes in bags? What about other plants? Tell us if it works in your opinion!