As an Amazon Associate we earn from commission of qualifying purchases.
Physical activity is an essential component of the healthy development of your kids, and keeping them active outdoors in the summertime is a task that might require some gear. It should make them interested in being active and interacting with you and each other.
One of the best options for summer fun is a backyard inflatable water slide that has become especially popular as most families are staying at home these holidays. Both children and their parents want to have fun and create the atmosphere of a full-fledged holiday.
Affiliate links and images placed from the Amazon Product Advertising API on 2023-12-08
5 Best Inflatable Water Slides
The main benefit of an outdoor inflatable water slide is that it is more affordable than the permanent one, and you will be able to create a real water park in your backyard just a few days after making the order. You will always be able to watch your kids or even take part in their games, sharing the atmosphere of summer vacation altogether.
With a wide variety of different shapes, colors, and designs of inflatable water slides that can even be as big as a water park, it is hard to make a decision. That is why I decided to collect my favorite models of slides and share this information with you.
1. BANZAI Big Blast Water Park: Best Inflatable Pool and Slide with Blower Motor
Affiliate links and images placed from the Amazon Product Advertising API on 2023-12-08
Banzai has a developed series of water slides of different shapes, sizes, colors, and slide combinations, manufacturing the high-quality summer fun gear for kids of all ages, starting from solo water slides to inflatable water parks.
This inflatable pool and slide model is called the Big Blas Water Park and is equipped with a series of additional fun accessories for active play. The lagoon-styled pool has large slide and basketball hoop and cannon designed for safe water blasting and detachable water hose. To get to the slide, kids will have to climb the fun wall made specifically for child alpinist activities. It has a set of holes and handles for hands and feet to climb up to the slide securely in just a few seconds.
The slide has special cushions for safe, speedy sliding. With the overhead sprinkle, kids will both have fun and stay cool in the hottest weather. The slide goes together with a blower motor that has GFCI to provide you with safe and secure assistance. Thus, the slide can be blown up in less than 2 minutes without any extra effort. This model has an impressive size: it is 175 inches long and 114 inches wide. With the slide, it reaches 95 inches height, being a great option for collective games of two and more children.
This slide is on the top of my personal list because I have found it after long online searches, and after purchasing it, I have never thought of an alternative! This item is a perfect birthday present in case your kids are born in summer, and if you have more than one. This is one of the best inflatable water slides for kids' parties and holidays, having enough space and possible activities for each child.

ADVANTAGES
Big inflatable pool;
Adjustable basketball hoop;
Overhead sprinkler;
Detachable water blasting cannon;
GFCI blower motor included.
DRAWBACKS
It is better for the kids 5+ years; I won't recommend it for a younger age.
2. Intex Surf 'N' Slide Inflatable Play Center: One of the Most Popular Inflatable Water Slides for Toddlers
Affiliate links and images placed from the Amazon Product Advertising API on 2023-12-08
Intex is one of the leading manufacturers of inflatable pools, airbeds, mattresses, and inflatable summer equipment with a special kids' product series made of durable materials that look and feel good. Intex play centers for kids have unique, bright, and funny designs, each creating its individual atmosphere.
In case you are looking through the most popular inflatable water slides for toddlers, Surf'n'Slide play center is a perfect match, combining all the fun of backyard water sliding, secure design, and simplicity required for the youngest water sliders. This model is made for young surfers, as it is equipped with two inflatable surfing boards for the most speedy sliding.
The SLide has lower cushioned sides, but it is not as high as other options and has really solid handles that will help your kids get on top safely. The lay center is made in a bright shark design, with your kids sliding down from its mouth using a long and soft tongue with an extra mat underneath for comfortable padding. This model will be equally interesting for both boys and girls, and it has a built-in sprayer that can be easily attached to your garden hose or even a streamer.
My friends have used this water slide for their kids, and they were happy with this purchase. The reason is this slide is quite compact, easy to transport, and carry because of useful side handles, and it is made of highly durable material. They have used this slide for years. Another benefit for long use is that the repair patch is included in the set, so you don't need to seek appropriate repairing materials or look for a new slide model.

ADVANTAGES
Perfect for toddlers;
Shark-themed design;
Great for backyard surfing: two boards included;
Useful side handles for transportation;
Repair patch included.
DRAWBACKS
Weight limit – 176 lb.
No water blusters, basketball hoop, or climbing rock walls.
3. Little Tikes Slam 'n' Curve Slide: Inflatable Pool and Slide with Small Curve
Affiliate links and images placed from the Amazon Product Advertising API on 2023-12-08
Little Tikes is a US-based manufacturer of toys for children that are known all around the world. This brand mainly focuses on simply constructed plastic toys for younger age for indoor and outdoor activities. With the developed set of various kids' houses, cars, and sandboxes, Little Tikes have a perfectly-designed set of various inflatable slides for backyard use.
This slide model is a perfect option for summer backyards in case you want your kids to get the maximum joy from a slide. This model has a great slide with an extra-large and protection cushion side that will protect your children while sliding.
It is equipped with an adjustable basketball ball and hoop situated in a safe angle where your kid won't be knocked down by a sliding friend. To get on the top of a slide, a kid will have to climb the inflatable rock wall, using safe feet holes and handles. There is an additional cushioned area in case your child falls down from the wall to secure them.
The slide is designed to make you see everything from one point, following your kids' activity. The item is continuously kept bouncy by air-blower, and anchor stakes help keep it stable during intense activities or windy weather.
One of the best features of this slide is its durability: it is made of puncture-resistant material that can withstand increased pressure or outer damage. This is one of the most popular top-rated inflatable water slides that perfectly combines decent quality, well-thought safe design, and a bunch of fun locations.
My neighbors have been using this slide since last summer. This inflatable water slide has survived several parties and is still used every weekend. It is slightly smaller than the previously reviewed model, but the quality and design make it a decent alternative.

ADVANTAGES
Large sides of the slide;
Rock climbing wall;
Basketball hoop and ball in a safe location;
Heavy-duty blower and GFCI plug;
Puncture-resistant material.
DRAWBACKS
Not recommended for 10+ children.
4. Bestway H2OGO! Mount Splashmore Kids Inflatable Water Park: Outdoor Inflatable Water Slide with Water Blaster
Affiliate links and images placed from the Amazon Product Advertising API on 2023-12-08
Bestway water slides have a wide range of different designs depending on your kids` age, the required size of the slide, and the most preferred summer activities. This brand has to offer various pools and slides that can be combined with trampolines, mazes.
The H2OGO Mount Splashmore water slide is a compact model for kids who love active sliding and playing in the water. This is a backyard waterpark with a small pool section, but an impressive slide. It is 9 feet tall and 12 feet wide, making this option one of the best inflatable water slides for adults who want to help their children get acquainted with the slide or just taller children.
The slide has a climbing wall with not only feet holes and handles, but also a rope made of the same firm materials as the rest of the slide and is connected to the wall on both sides. This is also one of the best blow up water slides, as here you will find a powerful water blaster and a surprise soak bucket situated right over the slide. The item goes together with a 120-volt air blower, and it inflates in less than 2 minutes.
A friend of mine decided to purchase this water slide, and I can say that he was impressed by the number of additional options for kids besides the slide itself. This water park is made with attention to details, can withstand several active children, and protects them during each slide with large cushioned sides. A surprise soak bucket is a great feature that makes Bestway slides more exciting and helps cool children in the heat.

ADVANTAGES
9-feet water slide;
Surprise soak bucket;
Adjustable water bluster.
5. BANZAI Adventure Club Water Park: Backyard Inflatable Water Slide with 2 Lines
Affiliate links and images placed from the Amazon Product Advertising API on 2023-12-08
Banzai has a broad experience in creating both simple and exciting toys and playing stations, as well as inflatable water parks, slides, and trampolines. This brand creates a colorful gear for outside activities and can propose something for both the toddlers and big kids that require more intense activity.
This water slide is a perfect option for parents, seeking for a really big water park with plenty of interesting features that will be a perfect alternative to the real aquapark. Adventure Club has 2 large curved slides, 3 overhead sprayers, and 2 water blusters, providing enough activity for your kids and their friends. There is also a basketball hoop and a ball that will allow them to play the game securely, splashing in the cool water.
In the center of the slide, you will see a rock climbing wall with feet holes and handles that end. On the slide's peak, there is a covered area, where children can rest before the new sliding series. This water pool has the most exciting water slides for big kids, as it is 96 inches tall and is made of sturdy and durable materials. Duratech PVC construction of the slide guarantees safe sliding that is also supported by cushioned padding put all over the water park.
When I saw this water slide on my neighbors' backyard, I decided to ask their opinion on this model. They said this is a great option for older kids and big companies that allows each child to take part in various activities. All children can slide as much as they want thanks to two separate sliding lines. They have also mentioned that this water park comes together with repair patches, ground stakes, blower motor, water spraying hose, and even a bag, which has saved them a lot of money.

ADVANTAGES
Extra-large water park with 2 sliding lines;
3 overhead sprayers;
Basketball hoop and a ball;
2 water cannons;
All necessary equipment included.
DRAWBACKS
The weight limit is 150 lbs.
Tips for Choosing the Best Backyard Inflatable Water Slide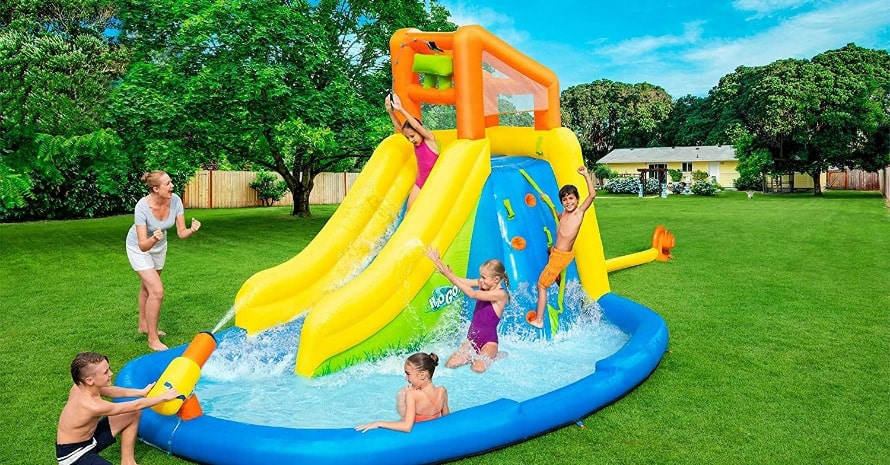 When you start thinking about buying an outdoor inflatable water slide, you have to keep in mind that each model has its peculiar features. The item`s physical characteristics have to match the terms of its use you can offer perfectly. Let's go through the essential aspects you have to take into account.
Know your budget
First of all, you have to define the amount of money you are ready to spend on the water slide. This is an exciting, yet pricey entertainment, but more expensive models can offer you a wider pool, additional slide line, water blusters, basketball hoop, sprayers, and much more.
Grassy surface
It is important to put the pool on an even, smooth surface to protect the material from breaks and cuts. The more grassy your backyard is, the safer it will be for the materials. It will also add smoothness to the kids` slides. In case you have a more firm, solid surface, look for the models with additional padding made of highly-resistant materials.
Free access to water
For the sliding to be smooth and comfortable, each item has to be connected to water through the garden hose or streamer. Take this into account when choosing the perfect location for the slide and try to find the longer garden hose made of thick and solid material.
Power availability
Almost all inflatable water slides go with a powerful blower motor that blows up the slide in a couple of minutes and maintains its shape during the day. Make sure you have access to a stable power connection for the motor. Maybe, you will require a waterproof extension cord to connect the slide from your house.
Size and weight
The bigger the slide, the heavier it is, and the more tiresome it will be to put, pull, or move it. At the same time, heavier water parks remain stable during windy weather and can withstand crowded birthday parties with a big team of active children. You also have to measure the location chosen for the future water slide and pick the one that matches these proportions perfectly.
When you have already chosen the slide for your kids, it is essential to provide it with proper care and make sure it is safe for your toddlers.
Taking care of the water slide
The majority of water slides can be washed with ordinary dish soap and warm water. You can use a smooth cloth for the dusted areas, gently scrubbing all the dirt as it might spread illnesses. Avoid bleach and oil-based cleaners, as well as chlorinated disinfectants.
How safe the water slide is for children
As they are designed specifically for children, water slides are safe for them to play with. However, you have to pay attention to their activity: teach them how to slide safely, check the cushioned padding, and not allow children under 5 years to use the water slide without adults as there is always a drowning risk for them while playing in the pool.
Most Popular Questions About Inflatable Water Slides

How much water do inflatable water slides use?
Inflatable water slides use less water compared to permanent ones – they need approximately 4 liters of water per minute. Thus, it is essential to connect the slide to the garden hoop. However, this water is recycled and can be used for as long as it remains clean and fresh.
What are inflatable water slides made of?
Most of the water slides are made of highly-resistant PVC, or you can find models made of vinyl or nylon. These materials are highly elastic and can withstand intense pressure without breaks and cracks.
How much does a bounce house weigh?
The weight of an average bounce house model starts from 150 lbs, depending on its size and height. They are too heavy to handle by yourself, so I recommend you ask for help or order delivery to avoid any back damage. A traditional bounce house is pretty large and thus can weight up to 300 lbs and more.
Choosing the Top-Rated Inflatable Water Slides
Looking back on the reviews of the inflatable water slides I have experienced in my life, you can see that a lot depends on your personal preferences. One of the best deals on inflatable water slides I have made is choosing the first model in the list above, as it perfectly combines all the most popular features of a slide, water park, and splashing pool.
If you are looking for the big kid inflatable water slides, pay attention to the height of the slide and the maximum weight it can take with a single player. I highly recommend you to choose the one with water blusters – children just love playing with them, and it helps them stay cool. What does your perfect water slide have to include? Maybe a surprise sprayer? Share your opinion in the comments.