As an Amazon Associate we earn from commission of qualifying purchases.
We try our best to enjoy fun games or activities in the snow during winters. However, you can only enjoy wintertime until heaps of snow start to block your driveway. When this happens, all of a sudden, it becomes a problem you will have to deal with.
The main difference between a 2-stage and a 3-stage snowblower is that the latter features not only an impeller and auger but also an accelerator that speeds up snow collection by ~50%. The first type is better for private use, and the second is usually applied as a commercial tool.
I can tell you already caught yourself thinking about the 2 stage vs 3 stage snow blower dilemma. I'm Bryan McKenzie, and I'm here to help you with that.
Best 3-Stage Snow Blower
Affiliate links and images placed from the Amazon Product Advertising API on 2023-12-07
What is the Difference Between 2 Stage and 3 Stage Snow Blower?
To help you find concrete answers to questions you may have about how to choose a snowblower, we will start with the basics.  At first, it will be as simple as what is snow blowing? It involves the act of removing snow from your sidewalk or driveway through the use of a snow blower device. The process entails the rotating spiral blades of the machine sucking up the snow while a propeller helps shoot it out of its chute.
Now that we have understood its working process, the next logical question worth answering is what choice to make when presented with an electric snow blower electric and gas snowblower. Therefore, this article will be dedicated to answering this and other related questions.
2 Stage vs 3 Stage Snow Blower: Comparison
| | |
| --- | --- |
| 2 STAGE BLOWER | 3 STAGE BLOWER |
| It comes equipped with an impeller and auger. These components efficiently work as a unit while blowing ice up. The process is as follows: first, the auger collects the snow, then the rotation of the impeller forces the snow out of the chute. While it may be slower than the 3 stage blower, it still can do a thorough job of clearing your driveway. | It comes equipped with an accelerator. The advantage of this feature is that it can collect snow 50% faster than your 2 stage model. What this means for you is that you can clear your driveway using less time while also doing a thorough job. Therefore, you do not have to worry about going back with a shovel to ensure that your path is clean. Based on Сub Сadet snow blower reviews I have read online, the accelerator also increases the distance of snow throwing. |
| Most of the 2 stage models come with a compact design of about 24 inches. This makes it easier for you to store the device without much hassle. In short, they won't take much of your storage space while 24 inches is wide enough to clear a large area of snow effectively. However, you should note that some of the two-stage models can extend up to 45 inches. | One of the weaknesses associated with the three-stage snow blower is that most of them are 30 inches and above. Therefore, this creates a challenge with their storage. It will require you to have a larger garage or shed to store one. |
| Those of us with mechanic skills can manage to maintain a 2 stage blower without the help of a professional. | The complicated designs of the three stage blower will require the help of a professional for better maintenance. |
| They can be utilized both for commercial and home use. | They are mainly ideal for commercial use. |
Several factors influence the decision which particular type of snow blower should you buy. The common considerations include the following components:
The amount of snow experienced
Size of area to be cleared
Frequency of usage
The ground material
The source of power
In most cases, the choice is mainly down to two-stage vs. three-stage snow blower. The rationale is that anyone looking to buy a thrower must be living in a snowfall-heavy area. Therefore, in terms of thinking about the future, a one-stage blower or shovel may not be an ideal choice. To help you make an informed decision, this section expresses the difference between 2 stage and 3 stage snowblower.
2 STAGE SNOW BLOWERS – WHAT IS A TWO-STAGE SNOW BLOWER?
If you live in an area that receives heavy amounts of snowfall, a one-stage blower and shovel should not be on your shopping list. The reason is simple, they are not sufficient to handle that task in hand. For starters, an electric snow blower can only help you to clear snow that is not beyond eight inches. Therefore, you will find yourself in need of a machine that guarantees to clear snow up faster and more effectively.
So, what does a snow blower two-stage gas offer you? For starters, this blower gives you the versatility that enables you to use the snow blower two-stage gas for both: commercial and residential roles.
Before we delve into the details of what you can expect from the two-stage gas blower, it is important to understand where its name derives from. Name description is obtained from the fact that the auger, which is responsible for sucking up the snow, is complemented by an impeller.
This results in a working relationship, whereby the auger performs the task of sucking up the snow while the impeller plays the role of discharging it through the chute. It also comes with two engine powered wheels that enable people using it to move easily and be able to scoop snow at deeper levels.
This is not the case in a one-stage blower, whereby the auger performs all the tasks. The functionality of the two-stage blower is enhanced by the existence of a 4-cycle gas-powered engine. This comes in different sizes depending on the brand and the job it is expected to perform. For a better understanding of a two-stage blower, we will conduct a brief review of Ariens vs. Husqvarna snow blower.
No products found.
These types of snow blowers come equipped with a 208cc motor. This motor type provides the machine with enough power not only to plow through 23 inches of snow but also to throw the sucked up snow for a longer distance.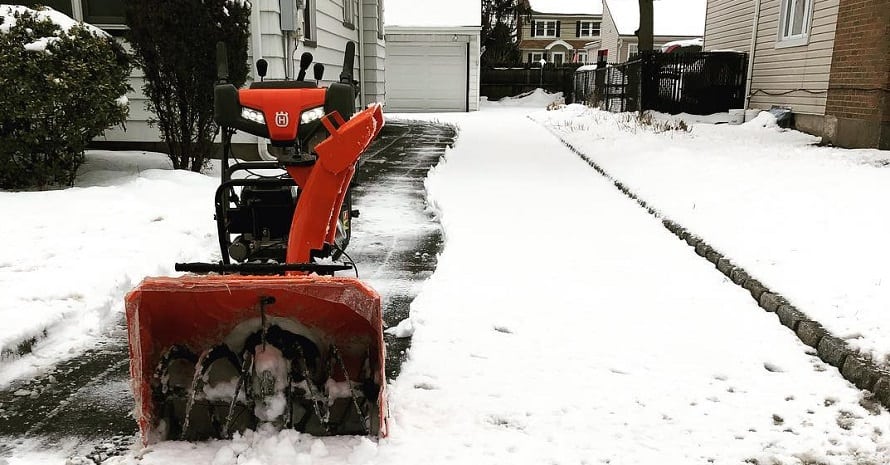 This brand is equipped with the following notable features: power steering and 15-inch tires for excellent stability in slushy snow conditions. Not to forget the 7-speed drive system that includes reverse.
ARIENS SNO-TEK
No products found.
Another blower in this category is the Ariens Deluxe 24 inch blower. It is one of the three exclusive heavy-duty 24-inch snow blowers you will find in the market.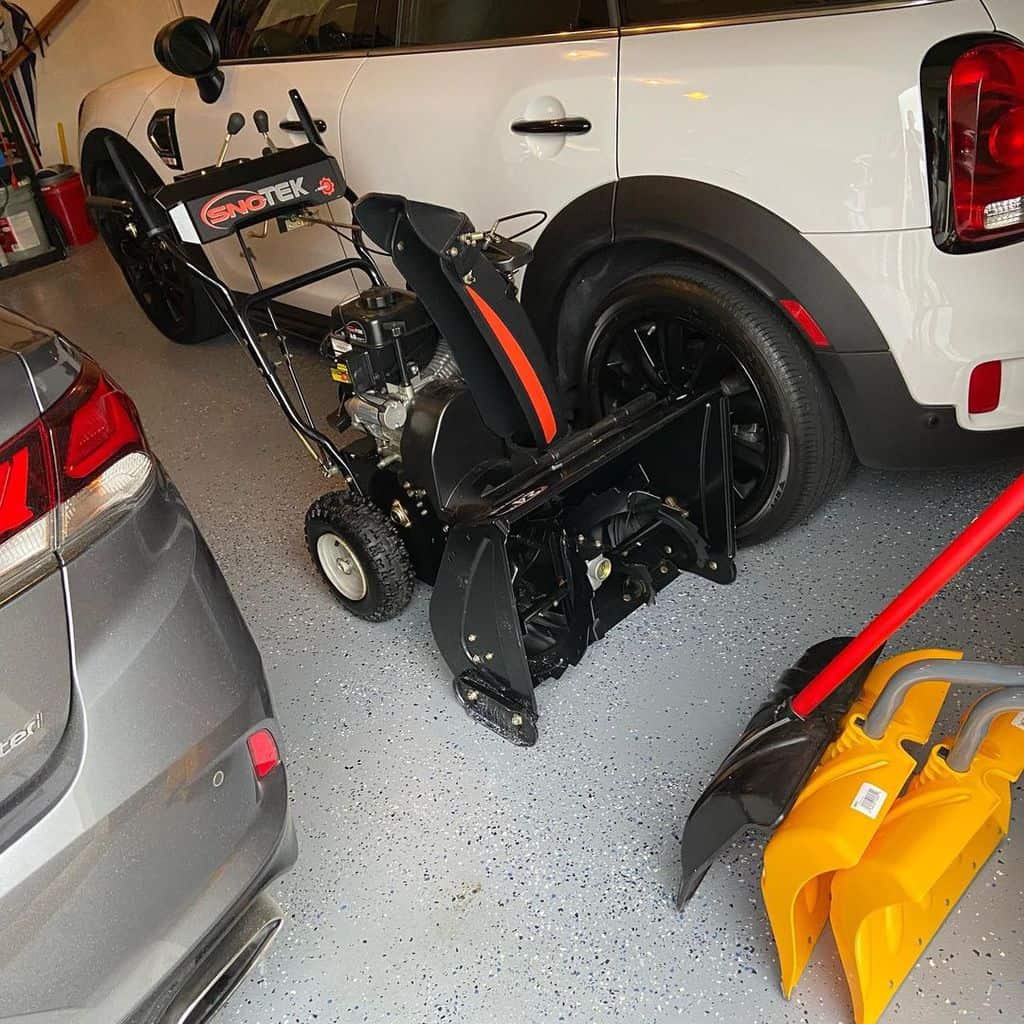 Ariens snow blower comes equipped with a 254 cc engine that gives it enough power to blow snow off perfectly well-even under rough weather conditions. Both its auger and impeller are 14 inches, which makes them the biggest in this category.
3 STAGE SNOW BLOWERS –WHAT IS A THREE-STAGE SNOW BLOWER?
The 3 stage blowers are developed with a view of raising the bar in ice and snow crushing to another level, thanks to their third-stage accelerator. Before we proceed with details about this machine, it is important to answer the vital question of what is 3 stage snowblower?
The three-stage blower incorporates an auger, impeller, and accelerator in its working mechanism. Therefore, its main difference with the 2 stage blower is in how it operates. The working mechanism is similar to that of the 2 stage snow blower. However, the accelerator makes all the difference by increasing the working speed of the blower. It fastens the process of snow collection by taking it from the augers and pushing it up into the discharge impeller.
Based on the other 3 stage snow blower reviews I have read online, the accelerator also enhances their suitability for commercial use. The heavy-duty gearbox in this blower combined with its powerful engine means that it can clear snow up to levels above 20 inches. It can also clear snow to a width of 30 inches. This fact makes it an ideal choice for both commercial usage and homeowners who experience heavy levels of snowing. A good example of a solid 3 stage blower is as follows.
BRIGGS & STRATTON 1696614
Affiliate links and images placed from the Amazon Product Advertising API on 2023-12-07
This medium-duty snowblower comes equipped with an electric engine that makes it practical to use in the coldest of winters. The powerful motor enables it to efficiently clear ice within a depth of 20 inches and a width of 24 inches. Five forward and two reverse gears further enhance its efficiency.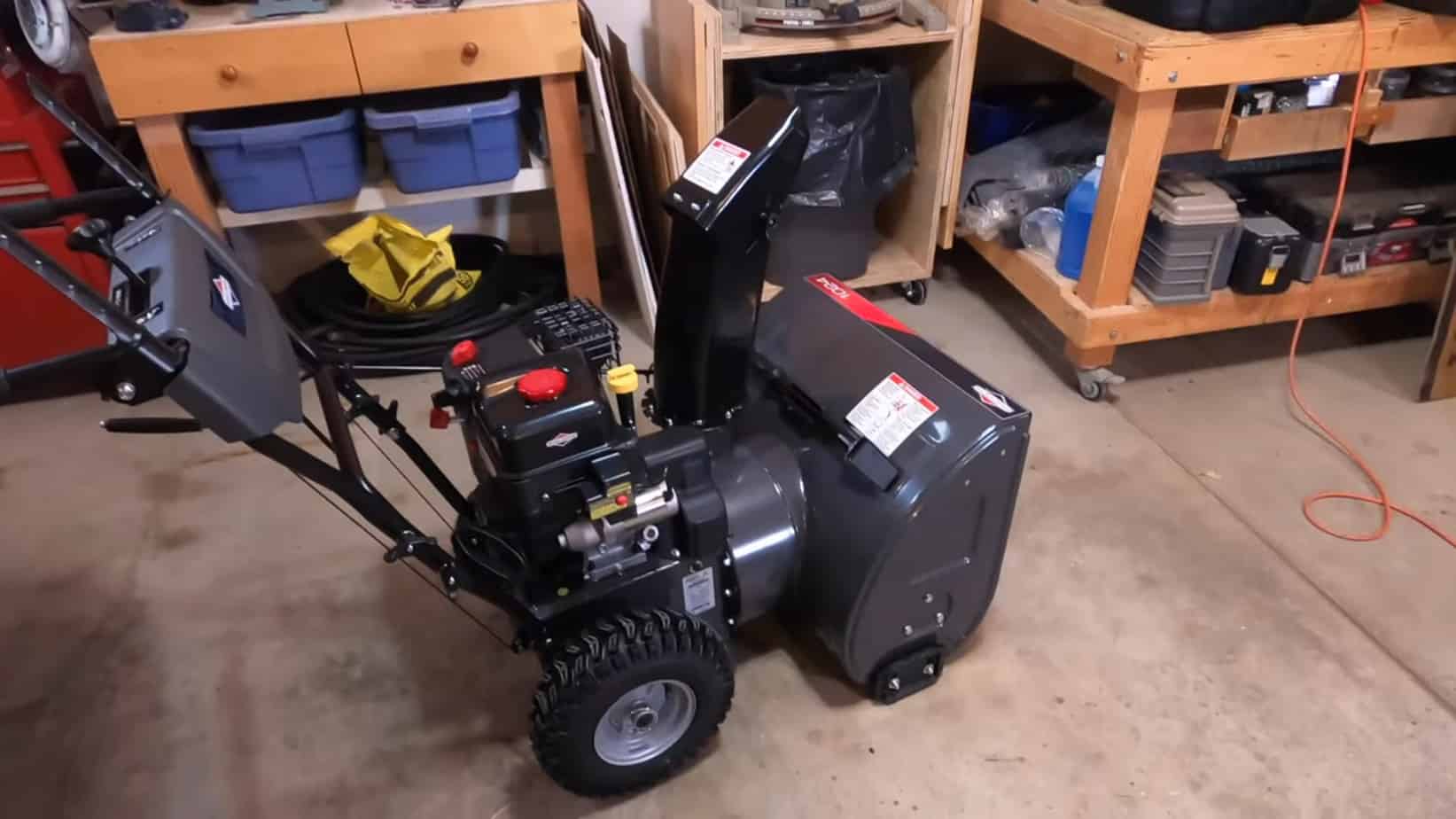 The blower also offers you a free hand control, which is useful in minimizing the amount of machine handling. The inclusion of steel-made skid shoes in its design not only increases its mobility on ice but also comes in handy when plowing through the deeply layered ice.
Furthermore, the material that is used in making this snow thrower helps in increasing its durability. For example, the body is made of ice-resistant steel, while other components like the gearbox are made from aluminum.
CHOOSING BETWEEN THE TWO TYPES: 2 STAGE VS 3 STAGE SNOW BLOWER
From the analysis conducted in this article, it is evident that snowblower types vary depending on their working mechanism. However, the one thing we can all agree on is that if you live in a snowfall-heavy area, your choices will always be down to a 2 stage vs. 3 stage snow blower. The thing is, you need a snow blower that is capable of handling snow over 18 inches deep. You also want one with the ability to clean snow up over a wider area faster and more effective.
Another advantage of these two models is the power produced by their gas engines. This makes them suitable for clearing ice even in rough circumstances and on rocky grounds. Their powerful wheels make their moves easy and effective.
However, if you are looking for something commercial, the 2 stage vs. 3 stage snow blower contest would easily be won by the latter. Its inclusion of an accelerator as a design feature makes it suitable for use in heavy jobs. The accelerator works 50% faster, which means the device collects ice better and throws snow at a longer distance. This feature also enables it to perform a more thorough job in clearing snow compared to its two-stage counterpart. Based on the information provided in this article and your personal needs, which of the 2 stage or 3 stage brand would you opt for.