As an Amazon Associate we earn from commission of qualifying purchases.
Have you ever pondered the contrasts between brush cutting and string trimming? The difference is quite large. It is imperative that anyone looking for a power tool for their yard work or someone who is a professional gardener comprehend it and successfully make use of it.
The following are my comprehensive, experience-based reviews for brush cutter blades and a description of the best set I have. I have invested over 10 years experimenting with different gardening tools at my countryside residence, and brushcutters have always been one of the most frequently used. Now I am prepared to provide all the information a gardener requires to know about the brush cutting blade, its attributes, and its uses.
Top Pick
Runner-Up
Best Rated
Heavy-duty teeth made of carbide alloy
Runner-Up
Best Rated
Heavy-duty teeth made of carbide alloy
Affiliate links and images placed from the Amazon Product Advertising API on 2023-12-07
Furthermore, I have created a thorough guide with expert advice on buying which will assist you in making the correct choice without taking long. All of the most frequently asked questions can be answered in the guide. Moreover, I compare the trimmer brush cutter blade to the string cutter to eliminate any uncertainty. The article is based on brush cutters, but this is not to suggest that string cutters are ineffective. Rather, it is to emphasize the main use of each type.
7 Best Brush Cutter Blades (or Weed Eater Blades) Reviewed
Here are the best brush cutter blades that I've ever used and which are still available on the market. I've had many more of them, but only these 7 managed to help me with high efficiency. Pay attention to specs of each item to pick up the one you really need without overpaying. But before that, make sure you know everything about safe use of your powerful machine.
1. Forester Chainsaw Tooth 9″ Brush Blade – Best Brush Cutter Blade For Small Trees
Affiliate links and images placed from the Amazon Product Advertising API on 2023-12-07
Forester is a dependable American brand from Wilkes Barre, which makes its products in China. It offers legitimate, top-notch replacement components for popular power tool names, such as Stihl and Husqvarna. In my opinion, it is the premier manufacturer of powerful 9" saw-style blades for brushcutters.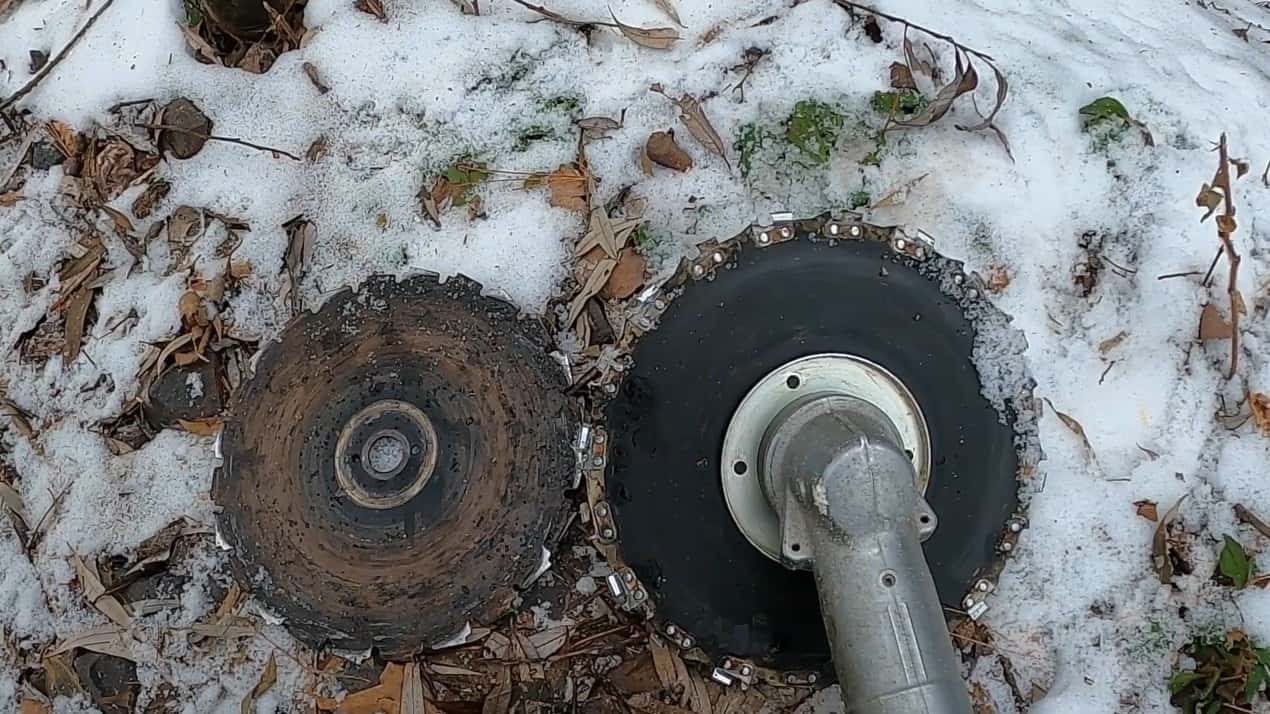 This item is exceptionally solid because it is designed to be able to tolerate up to 10,000 revolutions per minute. It has 20 sharp full-chisel teeth similar to those of a harsh chainsaw chain for cutting hardwood. Thus, you can utilize it to cut nearly anything apart from large trees and, obviously, rocks.
This one is very easy to sharpen since it needs two to three even strokes for each tooth each time you refill the fuel tank. I tried this blade on a large choke cherry bush with lots of substantial trunks growing close to each other.
This item proved to be just what I needed for my 32cc Stihl brush cutter; I didn't notice any lack of sharpness until I was done with the large, wet bush. With this product, if you need to cut down several bushes in a row, you can easily replace the blade (there are two in one package) and keep going.
Furthermore, the kit also includes two round files for accurate sharpening, which makes it a great buy if you are looking for strong cutting power to tackle thick bushes.
ADVANTAGES
Two blades per pack;
Quality round files included;
Heavy-duty performance (up to 10,000 RPM);
Affordable and comprehensive kit;
Full-chisel teeth.
DRAWBACKS
Scatters wood chips at high speed – wear protection!
2. ATIE Carbide Tip Brush Cutter Blade – Runner-Up
Affiliate links and images placed from the Amazon Product Advertising API on 2023-12-07
The ATIE 80T is a great alternative to the RENEGADE 8'' carbide-teeth blade and has approximately the same performance of 80 brazed-welded teeth, offering great longevity and cutting strength. The only downside is that the carbide tips may not be as long lasting as they are made up of only basic materials.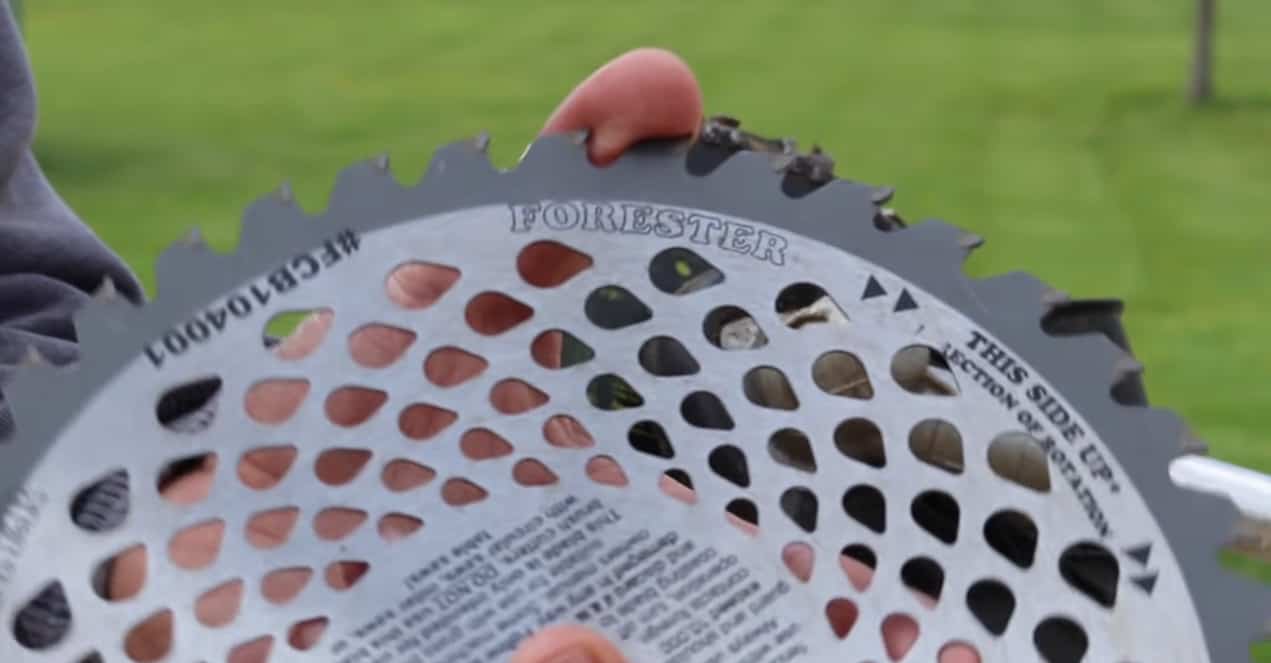 On the other hand, there are 80 blades instead of 60, meaning a larger cutting area. Since I don't have the proper resources to compare the sturdiness of both alloys and designs, my personal experience tells me they are both extremely solid and rarely require sharpening.
Furthermore, it is compatible with both 1" and 20mm drives, allowing you to use it with string trimmers and brushcutters. However, I wouldn't advise it for line trimmers as they are not powerful enough to generate the optimal RPM for this product, requiring it to rotate quickly for optimal performance.
The set includes two weed eater blades with protective plastic covers for the teeth, making it easy to transport. Therefore, you can purchase this model without worry if the RENEGADE 8" is not available.
ADVANTAGES
Two items in the package;
80 teeth for lower friction and higher longevity;
Universal 25.4 and 20 mm fit;
Good for most light and medium tasks.
DRAWBACKS
Clear carbide alloy without strengtheners.
3. RENEGADE BLADE 2pk-8″-80t – Extra-Durable Weed Eater Brush Blade
Affiliate links and images placed from the Amazon Product Advertising API on 2023-12-07
This brush cutting blade for weedeater is not made by a well-known brand, yet it surpasses all other products for its versatility, durability, and cutting ability. Though it costs a bit more than similar models, the extra money is worth it for the improved performance.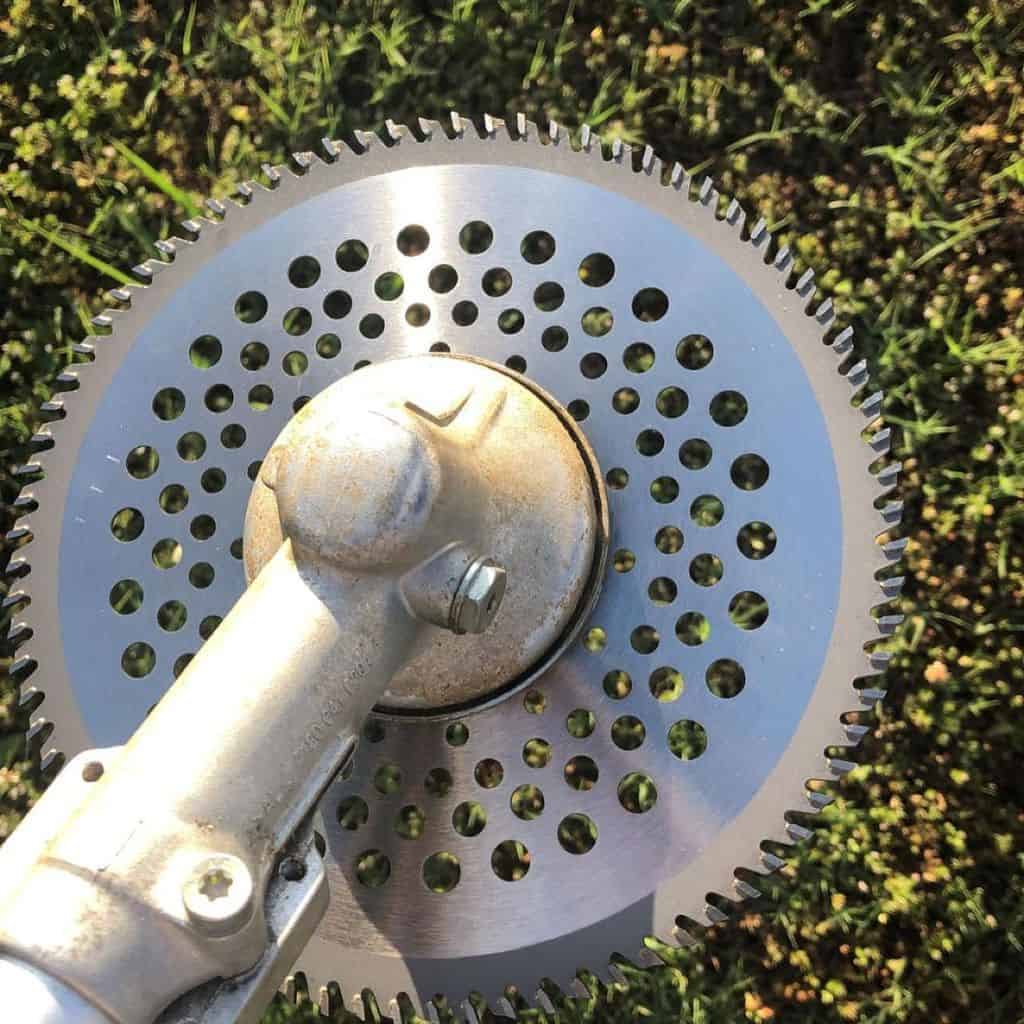 This blade features a 203mm plate crafted from a sturdy yet lightweight steel, with holes in the surface to avoid overheating and make it lighter. In addition, it contains 60 teeth made from a proprietary carbide alloy that is 10 times sturdier than steel, so it won't dull as quickly either.
These teeth are securely welded into slots, making it nearly impossible to remove them unless you try to cut through granite. This alloy consists of tungsten and 10 other alloys, such as chromium, vanadium, boron, and titanium, which give the teeth greater longevity and sharpness.
I recommend this product to both home gardeners and professionals who need something strong to take on most gardening tasks, including cutting grass, brushwood, and thin branches. Its holes and carbide teeth make it suitable for tough work in dusty conditions, where open mechanical parts experience high wear and tear.
If you accidentally hit a large rock, you may lose a tooth (it's just the way carbide works), but the balance won't be affected as there are still 59 teeth left. I use this blade for almost everything except cutting thicker trees. For that, you can find better options below.
ADVANTAGES
Heavy-duty teeth made of carbide alloy;
Lightweight steel plate with holes against overheating;
Great for most purposes;
The reusable protective seal provided;
Requires rare sharpening.
DRAWBACKS
More expensive than similar models below;
Doesn't fit 5/16" axle or line trimmers. You'll need an adapter.
4. RENEGADE BLADE green"VIPER" / HYBRID – Best Weed Water Blade with Combined Teeth
Affiliate links and images placed from the Amazon Product Advertising API on 2023-12-07
The previous item was the first product by RENEGADE BLADE that I've tested. Once I needed to buy a new one but didn't want to experiment with other brands, I had a lot of work to do rather fast. Unfortunately, my favorite one wasn't available, but I noticed that the entire line of the brand has carbide teeth. Without thinking long, I ordered the 44t, and it appeared to be a good one.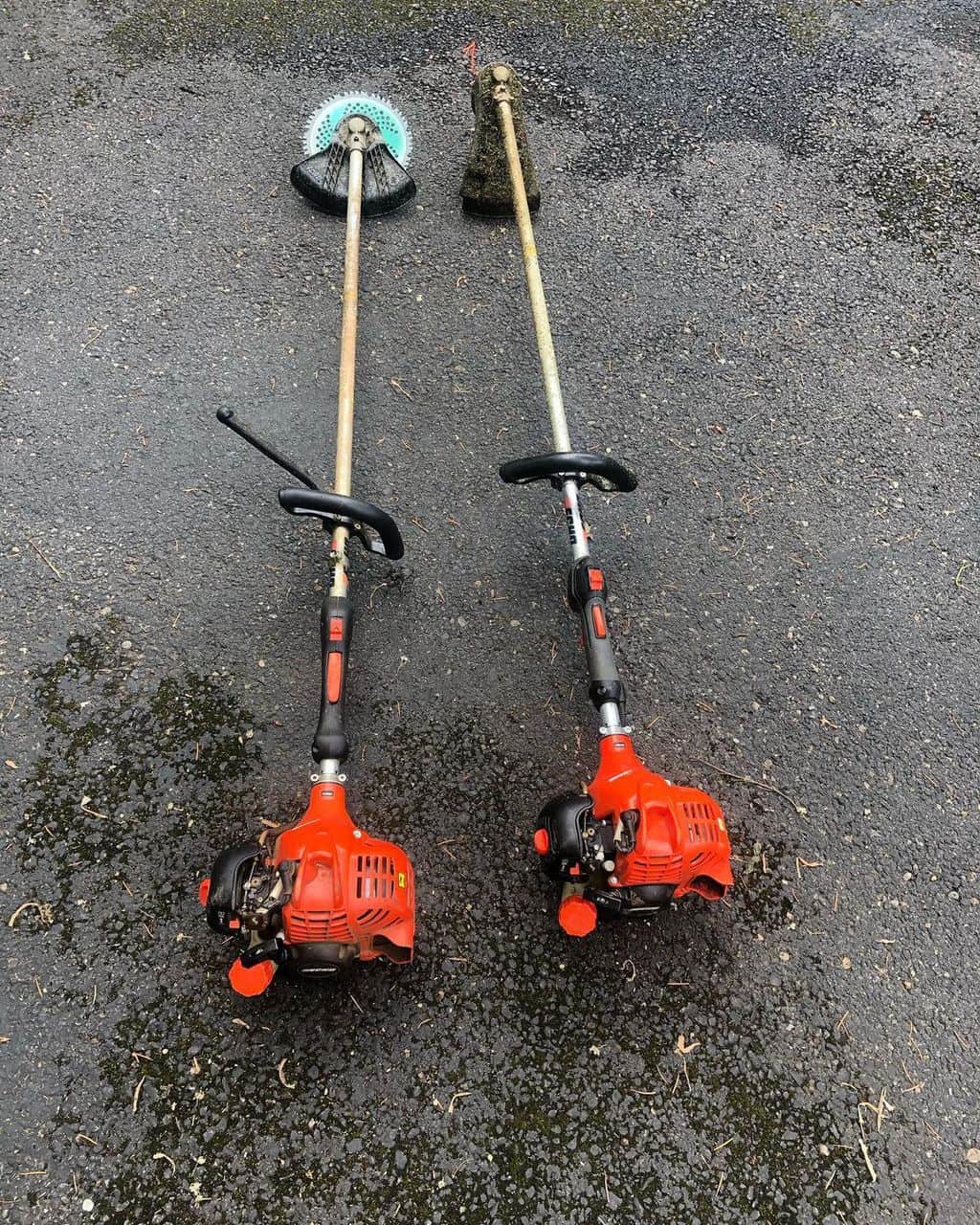 This cutter blade has a bit fewer teeth to free up a few spaces for angled sharpened cavities. This feature makes cutting wood a bit more difficult but adds up power against weeds. Some thick stems get into cavities if you wave the machine fast enough and break with ease.
The teeth of this model are also a bit smaller for achieving lower friction. In addition, they are welded deeply into the plate, which makes it even harder to cheap them. This is a perfect budget carbide option with extra power against thick weeds. The manufacturer recommends using it at around 3,500 RPM, but it actually works well at higher speeds too. It's a great option for medium-strength gasoline machines.
ADVANTAGES
Multi-purpose low-friction carbide teeth;
Sharpened cavities for thick weeds;
Good for medium-powered machines;
Extra-durable design;
Rare sharpening required.
DRAWBACKS
Limited rpm capability;
Not for thick wood.
5. Rotary Razor Max JM777 – Best for Medium Brushwood
Affiliate links and images placed from the Amazon Product Advertising API on 2023-12-07
JM777 is probably the best alternative to Forester 9'' in case you need a less powerful solution. This one does an excellent job on saplings and medium-density brushwood. Due to a smaller diameter and high durability (up to 10,000 RPM), you can cut wood with high efficiency. However, the teeth will get dull a bit faster than the 9-inch's Forester because there are just 14 of them. On the other hand, it's a bit easier to sharpen them.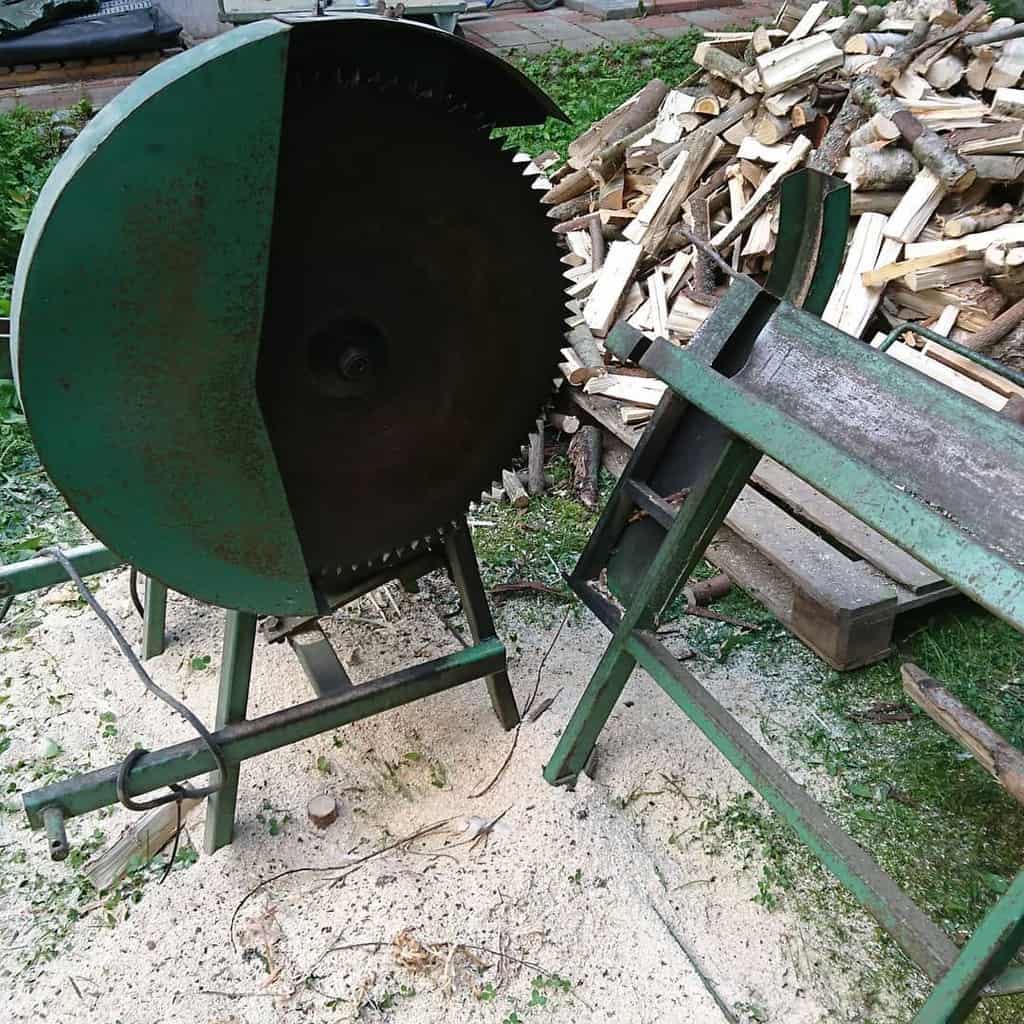 It's a good solution for heavy brush cutting at high speeds. At the same time, you can use it for effective grass trimming as well if you don't want to swap blades during the day. The center hole has a standard 1" diameter, which is suitable for the vast majority of brush trimmers. You should also know that there's a mistake in the description of the item and you need a 1/8″ file for sharpening instead of the standard 3/16". Proper sharpening will make it furious against brushwood.
ADVANTAGES
Universal 1" center hole;
14 teeth are fast to sharpen;
Durable enough for 10,000 RPM;
Universal chisel.
DRAWBACKS
Sharpening file not included;
Gets blunt a bit faster.
6. ATIE 3 Teeth Steel Brush Cutter Blade – Best Star-Shaped Model
Affiliate links and images placed from the Amazon Product Advertising API on 2023-12-07
Here is one more excellent product by ATIE. This 10" blade has 3 large sharpened knives that have a double-slope cutting surface. Of course, for most of the time, only the 10mm part of the blade actually cuts, while the rest couple of inches remain clean. On the other hand, they become very effective when you start waving your cutter fast enough from side to side. In addition, they reduce the probability of tall grass warping around the gear head as it's rather high for star-shaped edges.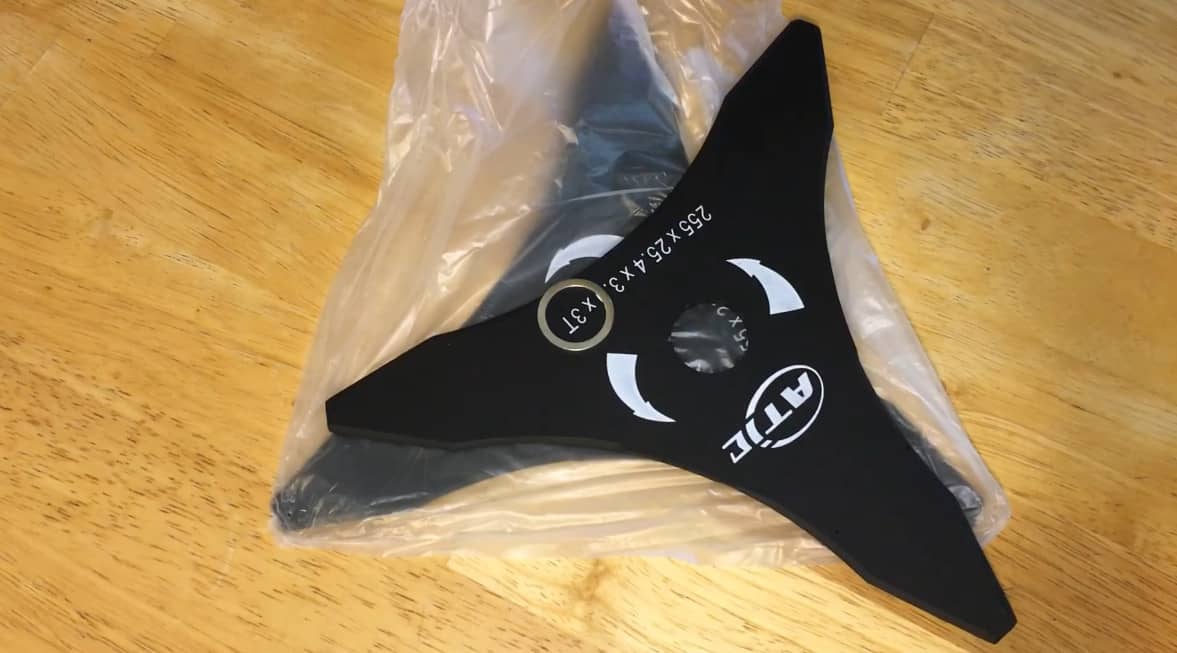 Due to the large diameter and thick 3mm plate, you can also apply this grass cutter blade for fast grass mulching. It behaves perfectly well on high RPM, and it's rather hard to damage as the paddles are really sturdy. I recommend this one for dense weeds and grass, but I know people who cut down large brushwood with this one too.
I'm sure that chisel blades are much better for that, but you can try these as well, if you really want to. It's a pleasure to sharpen these large knives anyway! You can use any flat files to achieve a bright shine and repeat it thousands of times.
ADVANTAGES
Ultra-sturdy 3mm-thick steel;
Easy to sharpen with a flat file;
Good for dense grass and thin brushes;
Low damage rate;
Universal 1" and 20mm fit.
DRAWBACKS
Exposed to long grass warping.
7. Wisamic 10 inch 80T Carbide Blade – Best Weed Eater Blade 2 Pack
Affiliate links and images placed from the Amazon Product Advertising API on 2023-12-07
This affordable blade by Wisamic offers an excellent ability for cutting medium-thickness brushwood, tall grass, and water weeds. The 80 teeth of the item are made of standard 2-component Tungsten carbide alloy, which remains sharp around 5-8 times longer than average steel edges. The teeth are welded into notches for lower chipping probability. Nevertheless, it's not likely to stay like new after a few hits on rocks or thick hardwood.
I figured out that the best application of this product is to cut 3" stuff and smaller to avoid overheating and quicker blunting. Tests on thin hardwood were successful but not as good as when I used RENEGADE BLADE. For average brush and woody weeds – it's almost perfect. If you're still skeptical about clear carbide cutting abilities, you should try this weed eater brush cutter blade. The package includes washers for easy installation on both 1" and 20mm arbor bores.
ADVANTAGES
Two washers are included;
Good for medium-hardness wood and dense woody weeds;
Stays sharp longer than steel;
Universal fit.
DRAWBACKS
Exposed to overheating while cutting hardwood.
Brush Cutter Blades Buyer's Guide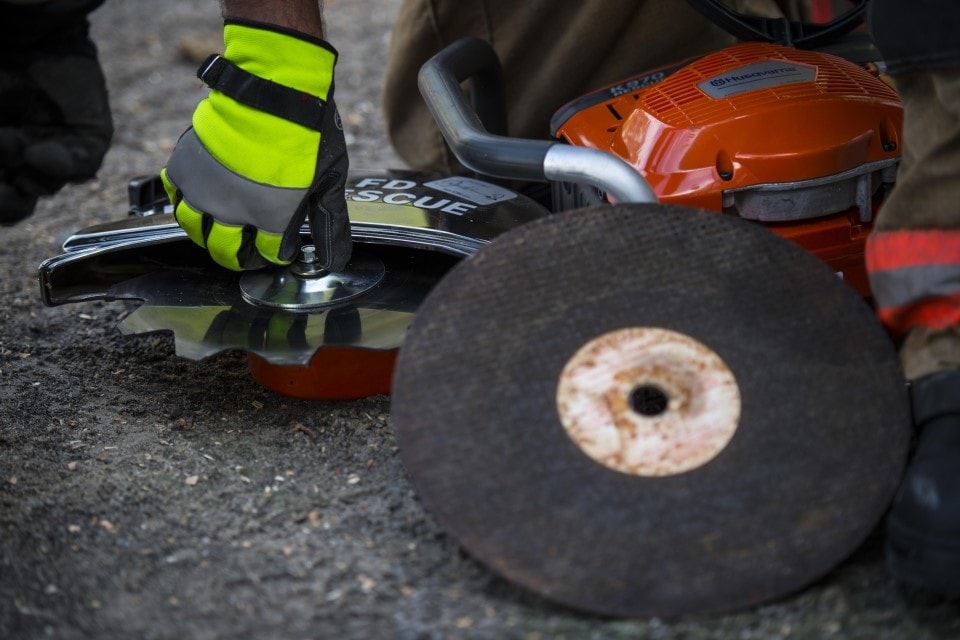 The market is overflowing with offers by numerous brands, so it's a tough mission to make the right choice, especially if you're a newbie. Read this section to know the difference between the existing types and to know what brands you should be looking for. There are 3 most commonly used types of blades – chisel, knife, and smasher.
Knife Blades
Knife blades can have from 2 to 40 sharp knife edges. This is the cheapest, most common, and generally most effective blade type. In most cases, the cutters are equipped with one by default. Such blades are usually very good at cutting dense weeds, watery plants, and brushwood (not all models).
The number of knives defines cutting ability and, what is more important, the actual time of effective spinning. There are several simple things that you should remember. Rectangular and star-shaped nozzles with 2-3 large knives are much easier to sharpen. Besides, they blunt much slower. On the other hand, I've noticed that these models can wrap strong tall grass around the gear head if you don't apply enough traction.
Blades with 4 and more sharp knives are less likely to wrap the gear head as they keep the vegetation around the outer contour. It's always better to have both types. Or you can train a safe cutting technique to avoid swapping the blades too often.
If you need mulching capabilities, you have to look for rectangular and star-shaped nozzles as they have the largest knife surface. The rounded shape is totally useless for mulching, so don't waste your time trying to mulch with it.
Chisel Blades
All of these blades are circular but may have a different number of teeth and chisel type. Some of them provide a shaving effect, while the others are somewhat similar to a chainsaw chain effect. Some items even have a chainsaw welded between discs.
Due to high cutting capabilities, I recommend you use them for cutting hardwood and woody weeds. At the same time, these blades are usually very difficult to sharpen because of their complicated design. They also have a heavy kickback action if you cut something deep.
On the other hand, their cutting ability is very high if you don't try to cut something thicker than 4 inches. In addition, chisel blades can pull themselves into the wood without bouncing away.
These blades can have steel teeth with or without offset (the first is much better), or chainsaw chisel. They have extreme wood cutting power, but the kickback and sharpening are significant as well.
Smashers
These though nozzles don't have sharp edges as they rely on the thickness and raw smashing action. You don't have to sharpen them so the maintenance is very simple. Just clean the clippings off and go. Despite their fierce appearance, these nozzles can be used only for mulching grass and water weeds. I also don't recommend them for tall weeds as they can easily wrap around the gear head and slow you down.
Less Common Types
Mulching blades are designed for furious mulching action and can only be used with the most powerful machines.
They can also throw prunings with high force, so you can use them only wearing full-body protective gear. The vibrations they cause are also too heavy for average machines;
Tungsten carbide teeth – being made of one of the strongest alloys on the market, these circular blades don't have to be sharpened as frequently as average models. This is my favorite type, as it's universal and durable.
Diameter Effects
My experience proves that diameter doesn't affect the cutting ability too much. You should understand that the most important part is the cutting edge that is always very short. The larger diameter of a circular blade boosts the cutting edge size, which can be effective when you cut grass and weeds, but nothing else. The majority of models have more or less the same diameter.
Brush Cutter vs. String Trimmer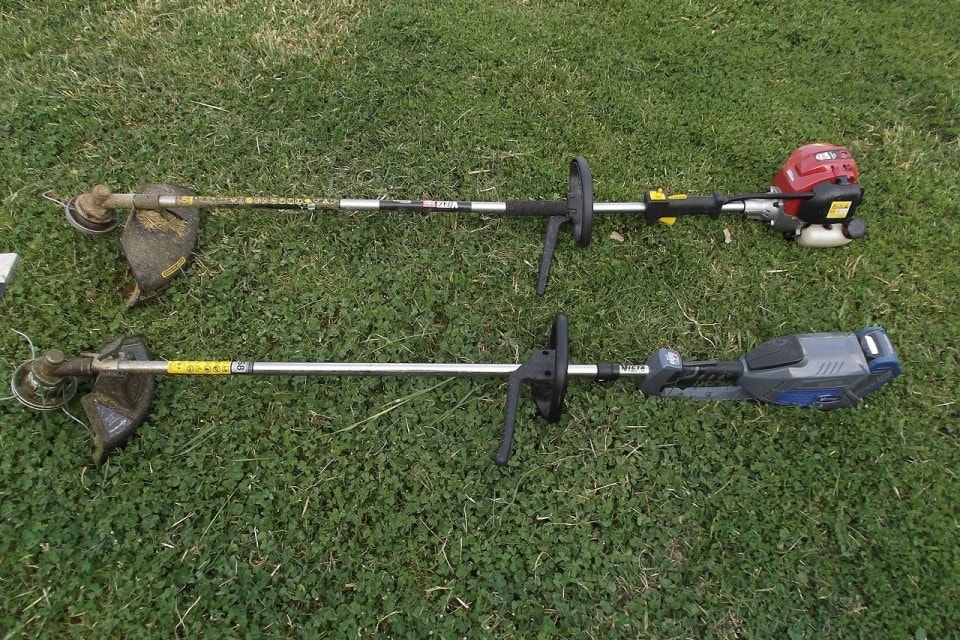 On first sight, brushcutters and string trimmers are similar devices. I was very disappointed when I bought an average line trimmer around 9 years ago and read an article about brushcutters a while ago. My disappointment was huge because I figured out that the second type of machine is much more powerful and combines the capabilities of both types. But let's dig a bit deeper.
? Power & Versatility
All string trimmers are equipped with less powerful engines than brushcutters. Manufacturers make line trimmers only for soft grass and weed trimming jobs, so they don't put the power needed for cutting bushes and trees into their devices. Still, the design of both power tools is almost the same, and it's very hard to distinguish one from another if you're new to the topic.
Ok, now you know that line trimmers are not powerful enough for doing something more difficult. On the contrary, brushcutters can be equipped with heavy-duty 2 and even 4-stroke engines, depending on the purpose of a particular model. They also have stronger chassis and transmissions in order to withstand the tension created by the friction between wood and the blade.
While less power means less versatility, more power lets you adjust your tool to a wider range of tasks. That's why the lines of cutting nozzles for brushcutters are so diverse. You can install an average nozzle with nylon strings to trim hard-to-reach areas of your lawn, or put on a circular saw-type blade and trim down brushwood without any difficulties.
If you ask me, "Can I convert a line trimmer into a brush cutter?" I'd answer "yes" too. However, you cannot expect it to be as powerful and versatile anyway. Moreover, you will reduce your line trimmer's longevity if you try to use it against too dense vegetation.
? Disadvantages?
More power can be a disadvantage too, but only if you don't actually know what you need. Brushcutters are usually a bit more expensive and entail higher maintenance costs. By that, I mean more expenses on power sources as heavier engines consume notably more fuel or electricity. Besides, you need a bit more muscles to carry an average cutter. It's a small thing, but it can be critical for someone anyway.
Finally, cutter blades are more dangerous and require you to be more careful while operating. While a nylon string cannot make deep cuts through your skin, a blade can easily cut off your fingers or do something worse. It's not really a disadvantage, but I don't recommend you to operate this device if you're not sure that you can follow all the safety measures.
? Do You Need Brush Cutting Blade?
I'm strongly convinced that having a brush cutter with a descent blade is a must for any gardener. I also don't see any reasons for purchasing a less powerful trimmer and wasting money on a conversion kit and more frequent motor repair works. Using a blade with a trusted brushcutter, you can do heavier stuff and be sure that your tool won't break or overheat in the middle of the day.
Plus, you can downgrade to a nylon trimmer anytime. Paying a bit more at the start, you save up on solving potential problems in the future.
FAQ on Brush Cutter Blades
In this section, I answered all the most frequently asked questions of my readers about brushcutters and blades. If something remains unclear, you're welcome to let me know in the comments.
1. What is a brush cutter blade?
Unlike a nylon string nozzle, a brush cutter blade is a solid metal item that's stamped or lasered from thin pieces of steel. There's a variety of shapes on the market with a variable number of cutting edges (from 2 to ~40). Each shape has both pros and cons, so you have to be as attentive as possible to match the type and your purposes.
2. What is the difference between a grass cutter and a brush cutter?
An average grass cutter is significantly smaller and lighter than a brush cutter. These gardening devices are designed for trimming your lawn in places that cannot be reached by a mower. A brushcutter is equipped with a more powerful unit and can help you get rid of denser vegetation.
3. Can you use a brush cutter to cut grass?
While a string cutter is too weak to cut brushwood, a brushcutter blade can do it all if you choose the right model. Fortunately for your budget, you can purchase a powerful brushcutter and use it for both grass trimming and brushwood works. All you need to do is ensure that the model you want to buy is compatible with nylon trimmer heads and the needed blade types. This way, you can really save up a bit and buy one tool instead of two.
4. How thick can a brush cutter cut?
While an average nylon cutter can cut only through lawn grass and tall grass, a brushcutter is powerful enough to cut really dense vegetation, including brushwood and even thin tree trunks. However, it's not a chainsaw, so you should be careful and avoid touching trunks that are above 4 inches in diameter. I also don't recommend you cut hardwood with this blade as a kickback may damage the cutter and even the transmission of your tool. Your tool's cutting capabilities also depend on the sharpness of your blade, so you have to check it before each session to be effective and avoid traumatism.
5. How to sharpen a brush cutter blade?
Brush cutter blades require regular maintenance to keep providing high performance. Fortunately, sharpening is an easy thing to do. Here are the essential steps to follow:
Gather the gear – you need a workbench, clean rag, bucket of soapy water, wire brush, metal file (or a sharpening machine), oil for lubrication;
Make sure that the device won't start all of a sudden;
Mark the bottom side of the blade to put it back properly;
Carefully remove the blade;
Clear the blade of clippers and mud, then wash it in the bucket of soapy water, and dry with a clean rug;
Wear protective gear;
Use a sharpening machine or make manual strokes with a metal file to achieve a bright shine on the cutting edge;
Put the blade back on your brush cutter.
Cut Fast
Now you see how important it is to tell brush cutter blade types and string cutters. Before making an order, you should make sure that you select a blade with the right properties. It may also happen that you need more than one blade for different gardening needs.
Have you already used brush cutter blades before? Which models have you tried? I'll be glad to see you sharing your opinion in the comments section below. If you have any questions regarding this topic, you're welcome to ask them there too. I usually reply quickly.