As an Amazon Associate we earn from commission of qualifying purchases.
While chances are high that you've come across various kinds of saws more than once, the difference between a table saw vs a miter saw functionality remains obscure to a lot of people. What is a miter saw? How's it different from the more common variety? Do I need a miter saw for my projects? These are all common questions.
Affiliate links and images placed from the Amazon Product Advertising API on 2023-12-07
In short, table saws are more multifunctional, which means you might use one for miter cuts, but it's a bad idea to use a mitre saw as a table saw. Read below for a more detailed comparison with recommendations for each category.
Simply Put
The main difference between a miter saw vs a table saw is that the former is more specialized. Table saws are multipurpose instruments used for a variety of cut types. A miter saw was designed specifically for angular cuts. This is ensured through a moving blade as opposed to the stock moving against a common table saw.
Miter Saw vs Table Saw: What's the Difference?
Let's dive into how these two saw types are different.
[wpsm_colortable color="main-color"]
| | | |
| --- | --- | --- |
| | Table saw | Miter saw |
| Functionality | Suitable for all basic cut types, including rip cuts, crosscuts, and angular cuts | Crosscuts and angular cuts plus trimming work |
| Price | Generally more expensive | Usually cheaper |
| Precision | Good for most uses | Excellent |
| Principle of operation | Stock moves against a stationary blade | Blade moves against fixed stock |
| Safety level | Might cause accidents if you lack the skill | Quite safe |
[/su_table]
What is a table saw?
The term "table saw" refers to a saw where the blade is mounted on an arbor performing a stabilizing function and is thus stationary. This is contrary to the more familiar idea of a saw having a blade that moves against the stock. Such saws are complete with electric motors that cause the blade to rotate and thus cut into the stock.
There are numerous uses for a table saw within the general woodworking domain. It can be used to make pretty much any type of cut, and the blade angle can be adjusted to change the cutting depth. Apart from wood, you can use this saw variety to cut plastic and aluminum sheets.
What is a miter saw?
A miter saw is a specialized precision tool for making cross cuts as well as miter cuts, such as for making frames and similar structures. Today's version of the device consists of a circular saw working against a fence.
The most likely answer to "what is a miter saw used for?" is cutting wood trim as well as molding, but it can also be used for other materials including metal and even masonry. The compound variety has additional mobility for performing bevel cuts.
Differences between a table saw and a miter saw
Versatility is the key difference between a miter saw and a table saw. The former is a highly specialized tool, while the answer to "what are table saws used for?" can be very long. Can you use a table saw for miter cuts? Yes, you can, although not very comfortably. Can you use a mitre saw as a table saw? Hardly.
This can also affect the pricing, although a lot will depend on the specific model. Generally, table saws cost a bit more. The price range is wider, too, which reflects the greater functional diversity. The answer to "what is a miter saw used for?" doesn't have to consist of one word, though. If you compare a compound miter saw vs a table saw, you'll find out that you will only miss rip cuts with the former.
Since the principle of operation differs considerably between the two saw variables, they don't require the same level of skill and caution. Using a table saw involves holding the stock with your hands. This makes the tool especially dangerous. We thus recommend that you consider a specialized and less accident-prone miter saw for miter cuts if you feel like you might need the functionality. See the reviews below to choose a model that best fits your purpose.
1. DEWALT DWS780: Our Best Overall Miter Saw
Affiliate links and images placed from the Amazon Product Advertising API on 2023-12-07
This miter saw by the reputed brand DEWALT is sure to meet the needs of the most exacting users quite regardless of their skill level. Even though I hadn't found it until I considerably upgraded my knowledge in woodworking, I do wish it had happened earlier. I've been using it on a regular basis to make miter cuts. Occasionally, I also rely on it for bevel cuts, which is possible because it has a compound blade that allows for the tilt.
This 12-inch blade model boasts the CUTLINE blade positioning system, a simple indicator that's still a game-changer because it makes the saw much easier to use. A shadow marks the cutline once the blade is lowered, produced by a built-in LED. The saw enables you to cut 2×14 dimensional lumber at a straight angle and 2×10 at 45 degrees. The miter range is 60 degrees to the right and 50 to the left, which is more flexible than the average cheaper model.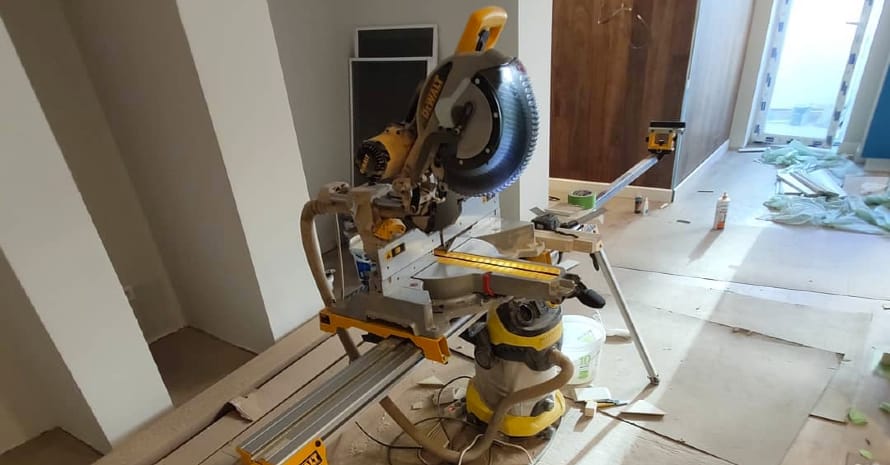 Overall, a lot of engineering effort has gone into this miter saw to ensure precision, safety, and user comfort. The miter detent plate bearing 10 positive stops is made of stainless steel, and the dust collection system doesn't leave much waste behind. Apart from this, you will appreciate the quality of the fence. You can use it for reliable support while doing miter cuts, but it won't get in the way when it comes to bevel ones. This model is top quality all over.

ADVANTAGES
Great materials and workmanship
Excellent accuracy
Easy blade positioning
60-degree right miter and 50-degree left miter ability
2. SKIL 3821-01: Great Value Miter Saw
Affiliate links and images placed from the Amazon Product Advertising API on 2023-12-07
A relative of mine has been using this budget-friendly 12-inch miter saw in his DIY endeavors for a while now, so I've taken a couple of opportunities to test it. It's about twice as cheap as the top pick but offers decent functionality and good workmanship, so I'd strongly recommend it to anyone shopping for a miter saw on a budget.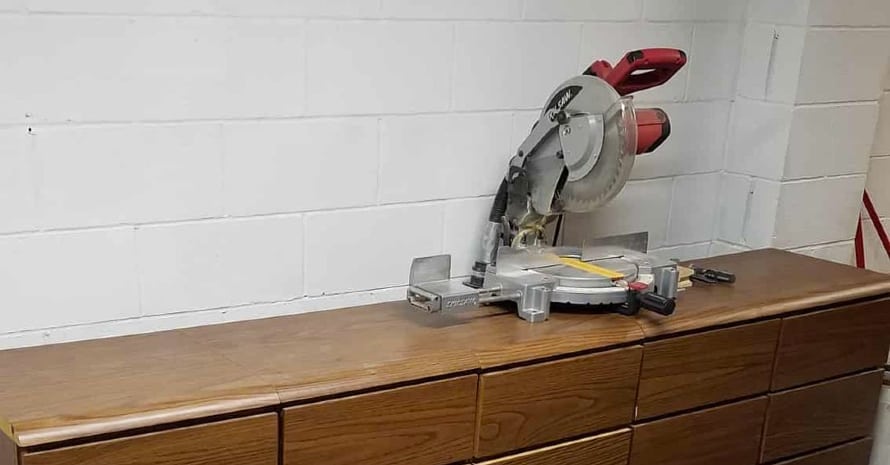 Unlike its fancy DEWALT rival, this saw only gives you a range of 45 degrees in both directions. This applies to miter as well as bevel cuts, for it's a compound saw, so you can use it for the latter purpose as well. 9 positive stops are there to help precision in setting the most common angles. Complete with a laser guide, this SKIL saw is great for hobbyists and occasional woodworkers.
This model was made easy to assemble to save your time. I can tell that the company uses some pretty solid aluminum here, too; don't mistake it for flimsy cast steel. This is a great way to ensure quality without making the unit too bulky.

ADVANTAGES
Well-made
Good precision
Easy to assemble
Budget-friendly
DRAWBACKS
A smaller miter range than in the top pick
3. DEWALT DWE7491RS: Out Best Overall Table Saw
Affiliate links and images placed from the Amazon Product Advertising API on 2023-12-07
Another well-thought-out model by DEWALT, this table saw offers the versatility of its kind plus amazing reliability and accuracy. This is my preferred representative of the category, and I've been using it for quite a while. I'd turn to it for miter cuts from time to time before I got the specialized tool, too.
Complete with a 10-inch carbide blade, this saw is fit for a wide variety of hobbyist and professional woodworking tasks, offering 3-1/8 inch cuts at 90 degrees and 2-1/4 inch at 45 degrees. DEWALT has been improving its table saws to enable narrower rip cuts, and this appears to be the pinnacle of it. The manufacturer invested a lot of research into user comfort. Hence, the tool comes with a convenient rolling table as well as a push stick and a miter gauge.
You can tell it's a quality piece the moment you take it in your hands. The extra smooth, easy-to-set-up rack-and-pinion support makes it a great time-saver. It also comes with an onboard storage system to save space.

ADVANTAGES
Great material quality
Precise cuts
Capable of doing very narrow rip cuts
Comes with helpful compliments
DRAWBACKS
Not the cheapest table saw you might find
4. SKIL TS6307-00: Great Value Table Saw
Affiliate links and images placed from the Amazon Product Advertising API on 2023-12-07
I must admit I once had an idea of getting this myself, and I couldn't resist the temptation to present it to a friend who's just starting his woodworking journey. I had to borrow it for some research, too!
This is a great table saw on a budget. Just like the DEWALT one above, it comes with a caster wheel stand, which has folding legs for space-conscious storage. This is a very smart solution for smaller rooms. SKIL has been experimenting with this kind of stand for some time now, and they are popular for a good reason. Unlike in earlier models, the manufacturer has included a dust port for collecting waste.
The fence rails move quite smoothly, although my friend noticed that the locks might get finicky at times. This is by far the only complaint he's got. The manufacturer is proud of its parallel blade alignment system, which greatly helps precision. The 10-inch blade cuts up to 4×4 at a straight angle and provides for 0 to 47-degree bevel cuts with two positive stops.

ADVANTAGES
Won't hurt your budget
Good accuracy
Great folding stand that's easy to set up
Comes with a dust collection system
DRAWBACKS
Extra narrow rip cuts aren't a possibility
Flimsiest fence locks
Table Saw vs Miter Saw Buyer's Guide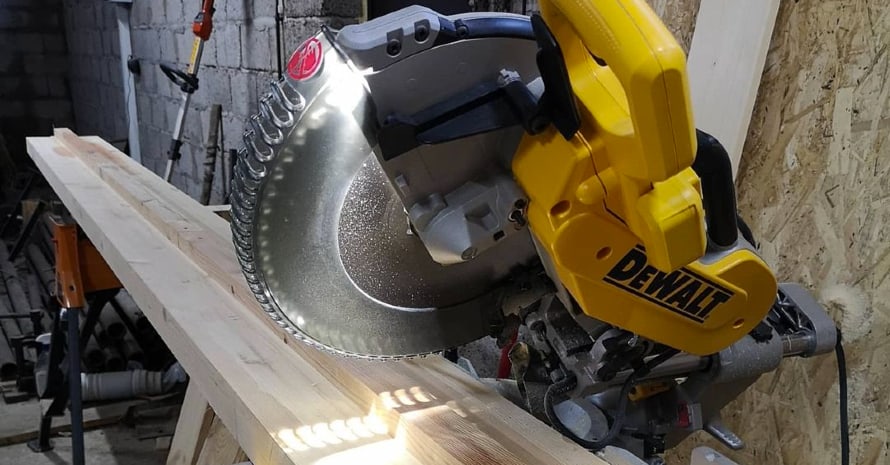 Here's a short guide for your reference to help you choose the optimum product for your needs. This doesn't factor in universally applicable criteria like quality since those can vary for both categories.
What is a table saw used for?
If we were to answer this in just one word, it would be "everything." Table saws are usually the centerpieces of DIYers' nooks as well as professional workstations. You can rely on this tool for cutting pieces of wood both parallel to the grain and across it. Plus, there's nothing to prevent you from making miter cuts with it, although this is not the best solution to the problem. The versatility comes at the cost of compromised safety and precision.
What does a miter saw do?
Just as the name suggests, miter saws are tools for making miter cuts, i.e. angled joints, usually at 45-degree angles, such as in-wall trim. There are more sophisticated varieties where the head, as well as the blade, can tilt at various angles to the workpiece to achieve a bevel cut. In case you are confused by this term, a bevel cut is a sharp-edged cut that's not at a straight angle to the top of the material.
Should I buy a table saw or a miter saw?
Your choice of a saw should depend on your preferred setting for using it. If you're a hobbyist looking for maximum versatility, a table saw can be a good place to start. However, you might find that it is too prone to accidents when it comes to making miter cuts, so there are cases where we'd recommend getting both provided that your budget allows for it. Alternatively, you can upgrade your skill to be able to simply produce miter cuts with a stationary blade like that of a table saw.
Table vs Miter Saw FAQ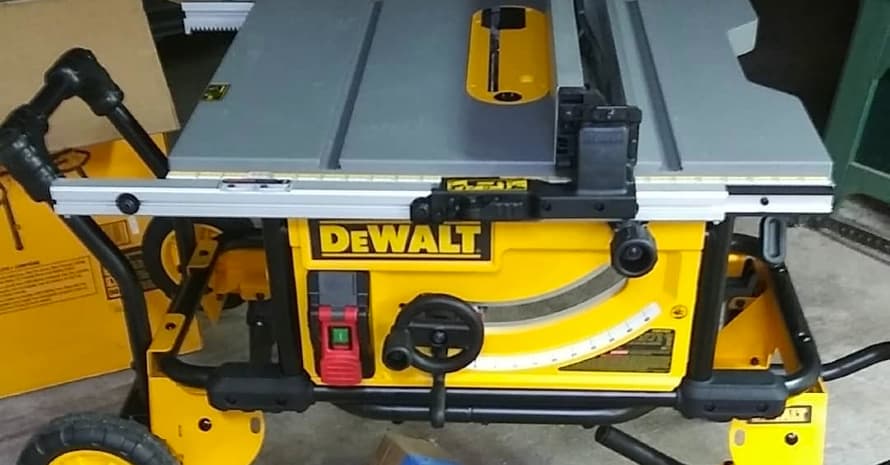 This section provides concise answers to some common questions when it comes to choosing between a table saw and a miter saw. Please refer to the above sections for more detailed information.
Why use a miter saw instead of a table saw?
Miter saws have the advantage of being more precise and safer as compared to table saws. This is only true when it comes to crosscuts as well as miter cuts and, in the case of compound miter saws, bevel cuts, though.
Can I use a table saw for miter cuts?
Technically, this is a possibility. You should bear it in your mind, though, that the miter extensions that come with most table saws aren't really accurate, so you might want to invest in a specialized tool if you need it on a regular basis.
What should you never cut with a miter saw?
Just like with any saw, it's never a good idea to cut something with splits, knots, and other defects or tiny stock that's smaller than 8 inches. Apart from this, miter saws aren't the tool to use for producing rip cuts.
Is it worth getting a table saw?
It definitely is if you are interested in versatility. Table saws give you a variety of abilities that you're very likely to need as a woodworker of any level. Whether you're a DIY enthusiast or a professional who values wide functionality, a quality table saw is indispensable in your workshop.
For those who want to focus on miter cuts or need an outstanding degree of precision, though, a table saw is probably not the best option. The tool just can't guarantee 100% accuracy when it comes to angled cuts. Otherwise, we highly recommend considering this purchase if you don't already own a full set of specialized saws to cover each of the cut types you might want to make.
Specialization vs. Versatility
Both a table saw and a miter saw can become a valuable addition to your workshop. Pick a versatile table saw such as the models reviewed above if you are looking for a one-size-fits-all solution, and add a miter saw to complete your set of abilities with perfectly accurate miter cuts.
Do you have any experience with either tool? You're welcome to leave a comment and share it. Feel free to ask a question not covered in the FAQ section above as well.