If you live in a place with heavy snowfalls, having vast heaps of snow piling up on top of your roof is just something you will have to contend with during the winter. I admire scenes of snow covering rooftops during the winter. The view is just amazing. However, there is not much fun when the snow starts damaging your roof. In extreme cases, you may be exposing yourself and your family to the risk of the roof collapsing. That is why you should consider buying the best roof rake to scrub the snow off your roof.
Pros
The handle is made of light aluminum for more durability. It can also be dismantled for improved portability
Like many other roof rakes, it is lightweight
Top Pick
Pros
The handle is made of light aluminum for more durability. It can also be dismantled for improved portability
Premium Pick
Pros
Like many other roof rakes, it is lightweight
Some of you may consider this as a quite senseless tool. After all, you can climb up a ladder and use a brush or a shovel to push the snow down the roof. But what about the risk you are exposing yourself to? One misstep may lead to sliding and getting a bone fracture. Therefore, to avoid such problems, it is advisable to use the right tools for the right jobs. How do you know a roof raking tool is 'the one' for your rooftop? Join me, Bryan McKenzie, a former landscape designer reviewing some quality roof rakes you can buy.
Do You Need to Rake Your Roof?
Why do I need to rake my roof? This is a common question among people that either lack the understanding of maintaining their roof or fear high costs involved. Raking your roof is considered an essential maintenance practice, especially for those who live in snowy areas. Removing the snow helps to prevent the formation of ice dams, which usually increase the risk of water seeping on the underside of your roof. This leak causes the formation of tea-colored patches on your ceiling, which means that you will have to bear the extra cost of repairing your ceiling.
Moreover, during the winter, there may be colossal snow build up on your roof. Your roof can only hold this pile up to a certain extent. Too much of snow increases the risk of your roof cave in.
Features of a Good Roof Rake
This article will review some of the top roof rakes available on the market. However, it is important to understand some factors or features that make them regarded as the best. These features include:
The blade material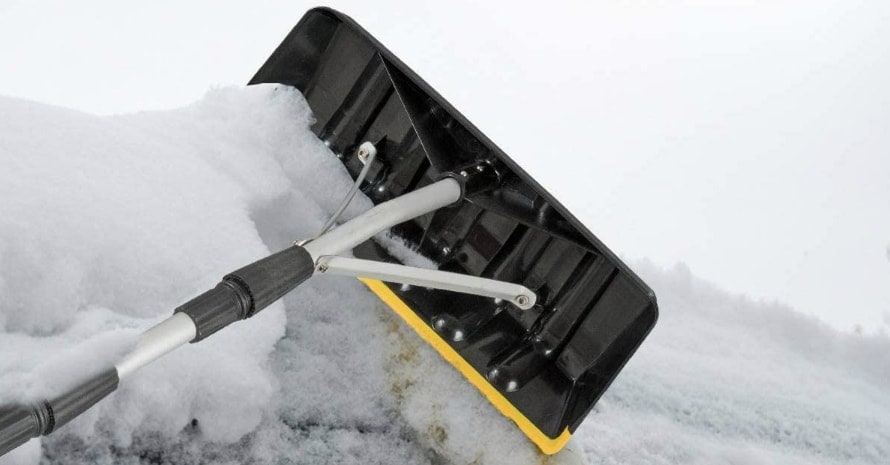 The blade is an important component of a rake. It is the key element that removes the snow from your roof. The material used to make the blade has a huge influence on its quality. While metallic blades are considered more durable, they do not guarantee maximum protection of your roof. This is why certain brands go the extra mile of including rollers in their metallic blades to minimize their contact with the roof. Another factor to consider with the blades is their size.
The handle
It is another crucial component of your rake. Among the quality factors to consider with them is the telescopic feature. Those with this characteristic are an excellent choice for those that have higher rooftops. Alternatively, you can opt for handles with an easy to snap handles. This makes them easily portable and suitable for adjusting depending on the height of your roof. Further, moderately bent handles minimize the effort required to move the rake in a vertical trajectory. Other features to look for in a handle include whether it had an anti-slip feature and also its weight.
Rollers 
Another quality aspect to consider when buying a roof rake is whether they got bumpers/wheels. This feature is essential for metallic rakes. The wheel minimizes the possibility of contact between the rake and your roof. Therefore, it helps guarantee that you cannot damage your roof shingles or tiles.
Reviews of the 10 Best Snow Rakes
In the sections above, we have analyzed the features that contribute to the quality of a rake. Next, we will review some of the best snow roof rake options.
1. Best Roof Rake for Small Houses Owners – Garant GPRR24U Yukon
The thing I love about this rake is that it is suitable for removing snow from your roof awnings. Everything about this product speaks about simplicity. For example, while the other rakes come with long handles, this one measures 15 feet. While you may consider this as a shortcoming, individuals with smaller houses consider it as a huge plus. The shorter handles also contribute to its lightweight and can be easily disassembled into three parts for improved portability. It also includes an anti-slip feature that guarantees comfort and firm grip when using this rake.
The handle is not the only part that highlights simplicity in this rake. It comes equipped with an innovative 24 inches poly blade. While other brands may have chosen materials such as aluminum for durability and weather-resistance, the Garant GPRR24U Yukon utilizes the cheaper and lighter polythene material. At 24 inches, the blade is also capable of clearing a large amount of snow within a matter of minutes. The soft nature of this material also guarantees that you will not damage your roof while using this rake.
ADVANTAGES:
The 24 inches blades are made from polythene material, which makes it lighter and guarantees more protection of your roof
The handle is made of light aluminum for more durability. It can also be dismantled for improved portability
The handle comes with an anti-slippery feature for improved comfort and grip when handling
It contains a broad angled head for efficient snow removal
DRAWBACKS:
The polythene blade may not be ideal for snowfall-heavy areas
2. Snow Rake for Roof With Long Handle – ProValue 96721 Rake with Extendable Aluminum Handle
Sometimes you think you bought the best rake, but later you find out that the length of it is shorter than you wanted. You may also move to a new house and find out that your current rake can not reach the roof of the new house. In such cases, you would need an extendable handle to increase the length of your current brush.
ProValue has four extensions that are made of aluminum. When assembled, the handles can reach up to twenty-one inches. The extensions make the handle suitable for use by anyone, and they also enable a rake to be able to clean most houses` roofs. If you are a tall person, you may need to install only two extensions, but if you are of average height, the four of them put together would make a huge difference.
ADVANTAGES:
It is compact and light (4.6 pounds)
It is durable because it is made of aluminum
It is very easy to set up and store
DRAWBACKS:
It is not suitable for horizontal raking
3. Best Roof Rake Snow Removal with Wheels – Avalanche SRD 20 with Aluminum Handle
If you are a fan of roof rakes with wheels, this Avalanche brand will fulfill your needs. It has two small wheels on either side of the head. The wheels help in maintaining the quality of the roof. They do not scrape paint nor form scratches on the surface because they can easily slide up and down the roof.
What is the rake of the roof good at? It is the widest rake among the ones I have reviewed as it extends up to 24 inches. This enables it to clean efficiently without leaving any leaves or debris that would tamper with the beauty of the roof. This width is very efficient for cleaning during autumn when leaves are falling all over the roof heavily.
It has a quick connect that enables it to reach 20 feet high. Therefore, if your height is between medium to tall, you may not need a helper to climb the roof for cleaning.  By extending your hand while holding on to this Avalanche, you may reach debris in any corner.
ADVANTAGES:
Like many other roof rakes, it is lightweight
It is easy to install
It has a wide length that enables it to reach and pull leaves and other debris from the roof
DRAWBACKS:
It cannot hold on to too much pressure; hence, it has to be used carefully
4. Roof Rake with Slide – Suncast 24 Inch Adjustable Roof Rake
Don't you feel good when you buy a product that is made by a company dedicated to customer service and comfort? If you do, this Suncast roof rake that is manufactured by Suncast is the product you are looking for. The company produces gadgets that help you feel comfortable in both the internal and external environment of your house. The firm takes time to research what you actually need.
The rake performs two major functions. Raking snow and leaves from the roof are the first one. The gadget is very efficient at doing this because it can stretch up to 21 inches. This is enhanced by the extension pieces that form a long rake when attached.
The second function is shoveling snow from the garage or even from the roof of your house. The gadget is capable of this because of its strong materials. The upper extensions are made of aluminum while the lower one is made with the same material, but with resin on top to enhance durability.
Since it weighs only 7.6 pounds, it is effortless to use to perform these functions. If you are asking if it is easy to store roof rakes with a slide like this, yes it is. You need to remove the extensions, clean it up, and store it in the garage.
ADVANTAGES:
It is very easy to use and store
It can rake and shovel snow from the roof or house
It extends up to 21 inches
Its bristles are soft, so they cannot scratch off paint from the roof
DRAWBACKS:
It cannot shovel too much snow because this would make it weak despite being built with strong materials
4. The Roof Rake That is Easy to Use – Avalanche 750 Roof Snow Removal with Easy to Store Handles
Avalanche roof rake 750 is a unique product. First, it has a poly slide that makes it easy to use. With the slide on, the rake can easily get to any part of the roof without difficulties. The slide is also long enough to be able to get to the topmost part of the roof.
The head of the rake is made of steel. The material is strong enough to push and pull snow without bending or breaking. It is also long-lasting; hence, it contributes to the durability of the rake. Finally, the pole is made of fiberglass. It enables one to hold on to the rake and push and pull it over the roof that is full of snow.
The combination of these materials ensures that the gadget does the job efficiently, and they also contribute to its lightness. It weighs 9.25 pounds, and although this is not very light, it is not too heavy to prevent you from cleaning your roof.
Assembling this gadget is very easy. All you need to do is to snap all the components together. To store it, you need to unsnap the components and put them in a box where it is easy to locate the next time you need to use it.
ADVANTAGES:
It is effortless to use without having to climb on the roof
It is light
It is made of steel and fiberglass, which are durable
It is easy to set up
DRAWBACKS:
It is not efficient for cleaning frozen snow because it may weaken the head of the rake and then render the gadget useless
5. Best Roof Rake Snow Removal – Snow Joe RJ204M Telescoping Snow Shovel
Snow Joe is arguably the best option that does what it promises. Unlike other rakes, Snow Joe does adjust the height on its own without having separate parts. You do not risk losing any part.
The head of the rake is long enough to collect a substantial amount of debris from the roof. It measures six inches by twenty-five inches. This is ideal as it makes cleaning fast and easy. The head of the rake is blue; this adds some charm to the design of the gadget. The color gets rid of dullness involved in cleaning, thus making the activity an exciting affair.
You can use this rake to reach the roof without the necessity of climbing up. I love gadgets that make my work as effortless as this one. They make my life easy, and I am sure you would want to use a rake that will make your work easy too.
ADVANTAGES:
It has rich, vivid colors
It is easy to use
It has an extendable height of up to 21 inches
It is very light
DRAWBACKS:
It is not efficient for heavy-duty shoveling
6. Best Roof Rake for Snow and Leaves – Garelick 89600 Roof Brush
No products found.
Are you a fan of flexibility? If you are, this rake has everything you need. It is flexible in having a head brush without the pole. It allows you to use it when you need to and also remove it from the pole when you need to use something else like a rake. For this reason, it is compatible with four models of Garelick roof snow rakes that include 89521, 89416, 89516, and 89421. I applaud the manufacturer for making it compatible with all these models because it means that anyone who owns one of these rake models may be able to use the brush as an additional accessory.
The weight of the brush is 1.5 pounds, and it has a length of 18, which is efficient in collecting many leaves from the roof or solar panel. The bristles of the brush are efficient for use on solar panels, roofs that shake, and the removal of light snow on shake roofs. With the wide length, the brush can sweep leaves from the roof and make it spotlessly clean.
ADVANTAGES:
It can be used with other Garelick snow rakes
The bristles of the brush are strong enough to sweep light snow
It is made of aluminum, which is long-lasting
DRAWBACKS:
It does not come with an extension pole
7. Best Rated Roof Snow Rake – Garelick Aluminum Snow Roof Rake
The 21 foot Garelick 89421 roof rake features an aluminum 24 by 7 inches blade attached to patented shingle shaver rollers. These design features are the strong points of this tool. The fact that it is made from aluminum guarantees that it is durable and highly resistant to weather elements. The use of this construction material also contributes to its lightweight, which is one of the attributes we love about this rake. One may ask why they had to patent a simple feature such as wheels in a rake. The answer lies in understanding the working mechanism of this innovative technology.
Usually, once you use the rake to pull the snow down the roof, chances are you will push it back the roof and repeat the process over and over again. This is where the use of rollers come into effect. They help to minimize the effort required to roll back the rake up the roof. At the same time, rollers minimize the possible damage to your roof tiles. The Garelick 89421 is also designed in a manner that as the rollers glide up your roof, the blade will not come into contact with your roof. However, once you begin pulling it back down, the blade will effectively scoop and bring a huge chunk of snow with it. Clever, right? This innovative system ensures that you can efficiently clear snow off your roof without damaging it or its shingles. Also, it is ideal for eliminating ice dams off your roof during the winter.
ADVANTAGES:
The design comes with the innovative technology of shaver rollers. Their role is to facilitate the efficient movement of your rake with minimal damage to the roof
The rake is made from aluminum, which contributes to its durability and lightweight
The handle is 21 feet long, which is long enough for any roof height. This handle can be disjointed into four sections, that advantageous when storing or moving it around
It comes with a vinyl hand grip that helps improve the stability of the rake
DRAWBACKS:
Consumers have complained that the rollers need some improvement
Some have complained that the rake's rollers came off within days after buying
Others have also claimed that the rollers jammed while using the rake
9. The Most Efficient Roof Rake – The Ames Companies, Inc 193055510 Telescoping Roof Rake for Snow
The Ames Companies Inc has surely taken care of our needs by building this high-quality metal roof rake trim. One thing the company has focused on is making it prone to wear and tear. The organization has installed a wear strip on the rake to prevent it from tearing as it gets used. This makes it durable, and it also adds a touch of beauty to the gadget.
It has a push-button that makes the device collapsible. Once it collapses, it is easy to store it in the garage, and even if you do not have one, you can put it in the house because it is sleek; hence it occupies a small space. The handle is built in a telescoping design to enable one to clear leaves or snow from the roof without using a shovel. The ease of reaching the roof makes the gadget efficient.
The handle is made of aluminum, and it has a length of 17 feet. The head is made of poly plastics that are also classy and long-lasting.
ADVANTAGES:
It is beautiful and classy
It has a sleek design
It does not slip from your hands while cleaning
It is lightweight
DRAWBACKS:
The pole may be short for cleaning some roofs
10. Innovative Roof Rake for Snow – Avalanche Original 500 Roof Snow Removal System
No products found.
The one thing I love about the Avalanche snow removal system is its state of the art innovation. As a matter of fact, it is a real system that is composed of a blade, slide, handle, and a wheel. The wheel for the Avalanche 500 is 1.5 inches, which makes it suitable for use on roofs with shingles. The idea is that the rollers facilitate the blades and snows movement without dragging or unsettling your roof's tiles. They also minimize the possibility of the rake gliding through your roof.
The Avalanche's blade measures 17 by 8 inches. This implies that it has both enough length and width to remove tremendous heaps of snow within a matter of minutes. This blade can also be easily dismantled during storage or when transporting it. A slide attached on the lower side is made from a plastic material. This 12-foot slide facilitates efficient snow removal. The working mechanism of this innovative feature minimizes the amount of gridding between your roof and the snow. Maintaining this minimal contact helps in saving your roof from potential damage or discoloration.
Another amazing feature in the Avalanche 500 is its handles. For starters, they are 16 feet long, which means you can rely on them to remove snow from high rooftops. You can rely on it when trying to remove snow from high points such as roof peaks. The handle is also made from a fiberglass material that contributes to both its durability and lightweight.
ADVANTAGES:
It contains a long handle made from fiberglass for more durability
It comes in four easy snap parts for easier assembly
It includes a 12-foot slide made from plastic material for efficient snow removal
DRAWBACKS:
Some consumers consider it heavier than other rakes
Buy a Roof Rake That Meets Your Specific Needs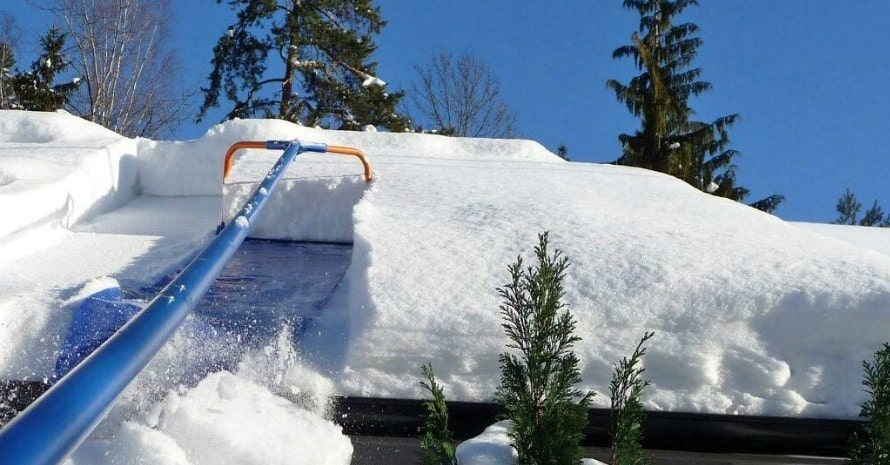 If you live in a snowfall-heavy area, a roof rake is a piece of equipment you should own. Having snow during the winter may seem advantageous to some extent since it provides excellent insulation to your house during the winter. However, as the saying goes, "too much of something is poisonous." This is why when the snow reaches certain levels, it has to be removed. The key reason for this is to avoid the risk of the roof collapsing on you. Raking your roof prevents the development of ice dams which may harm your freshly renovated ceiling.
When picking among the best roof rakes, you want durability. Since you are going to use the tool in winter, the material used in making the rake's handle and blades should be lasting. Examples of strong materials are aluminum and plastic, which are highly resistant to weather elements. When it comes to buying handles, your roof size and storage needs should be considered. Handles that can be disassembled are ideal for adjusting heights. Based on these features, which of these reviewed roof rake brands you would buy or recommend to a friend?
Last update on 2021-10-21. The post includes Affiliate links. Images from Amazon Product Advertising API